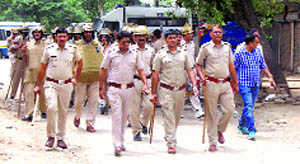 Geetanjali Gayatri
Tribune News Service
Chandigarh, July 5
After tension with the Jats escalated for the second time in a month earlier this week, members of the 1,200-strong Muslim community in Ballabgarh's Atali village have left their homes. In Bhiwani, the 100-odd families of Christians claim they no longer feel secure after miscreants pelted stones at a local church. In Jind, too, the attempted reconversion of Christians caused unrest in Manoharpur village, keeping the administration on its toes.
The Manohar Lal Khattar-led BJP government in the state seems stuck in "communal mess" as the minorities claim feeling insecure. The Opposition continues to blame it on the government's "saffron ideology which divides society" and its failure to maintain law and order.
"We had gone back to the village after an assurance from the administration after the clashes in June over the construction of a mosque, hoping normalcy would return. However, on July 1, we were offering prayers when a congregation, comprising elders and children, was attacked. The cops on duty expressed their helplessness to save us. That is when these families decided to leave the village. We are too afraid to return," explains Ishaq Nambardar of Atali, who is now living with his relatives.
Though the police have"rounded up" a few of those responsible for the violence, the Muslim families feel the move has come a little too late. They maintain the government should have arrested the guilty right after the initial violence.
Pastor Prakash Masih of Bhiwani, too, shares sentiments of the Christian community's insecurity after the stone-throwing incident. "Christians have a population of 500 here. We have 35 families coming to our church for prayers. Ever since the incident, we fear it will happen again," he said.
Opposition parties see a systematic design in the escalation of communal tension. "The dominant community and the minorities in Ballabgarh had lived in harmony for years. This sudden rise in communal tension after the BJP assumed power in the state is self-explanatory. Besides, the government seems confused when it comes to maintaining law and order. It shows weak administration," state Congress chief Ashok Tanwar said.
Leader of Opposition Abhay Chautala also attributed the communal tension to a "weak government" with priority on gimmickry. "The BJP government's entire focus is on launching programmes that mean little to the common man and are essentially only photo opportunities. The common man's priority is law and order, followed by power and water. The government is busy with so much else that it has no time to address these crucial issues," he said.
Yashpal Singhal, Director General of Police, Haryana, however, said the police was completely in control of the situation. "These are stray incidents and we are in control of the situation. Timely action has contained the situation in Jind and Bhiwani and extra manpower has been deployed in Atali," he said.