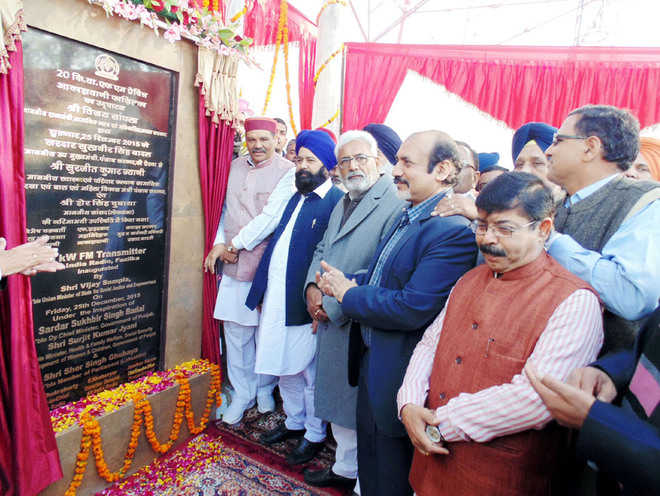 Praful Chander Nagpal
Fazilka, December 25
Union Minister of State for Social Justice and Empowerment Vijay Sampla and state Health and Family Welfare Minister Surjit Kumar Jyani today inaugurated a FM radio station (20kW FM transmitter) in Fazilka.
Member of Parliament Sher Singh Ghubaya, Deputy Commissioner Ravinder Singh and All India Radio (AIR) Deputy General Manager, Bathinda, Om Parkash Sharma were present at the launch.
The AIR will broadcast its Urdu service at a 100.8 Mega Hertz FM transmitter from 5.44 am to 11.10 pm daily in about 80-kilometer radius in the region.
The programmes of AIR Urdu service will also be available in the 68-km radius along the Radcliff Line on the Pakistan side. Fazilka town is 10 km away from the international border.
"The service will help combat the media invasion of the Pakistan government against India," AIR officials said.
Residents of Fazilka, Ferozepur, Muktsar and Faridkot districts in Punjab and neighbouring Sriganganagar and Hanumangarh districts of Rajasthan will be benefited from the launch of the service.
Sampla said the new radio service should herald a beginning in the border region. He termed it as a special gift for people of the border area on the birthday of former Prime Minister Atal Bihari Vajpayee who had cleared the project 15 years ago.
Jyani said the listeners would enjoy the programmes, based on health, education and entertainment, of the service every day.