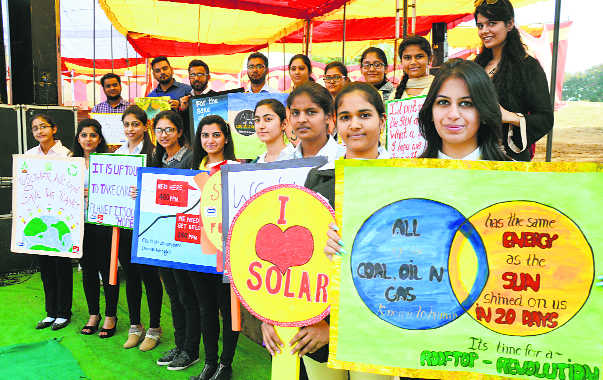 Charanjit Singh Teja
Tribune News Service
Ludhiana, December 3
Getting motivated by Prime Minister Narendra Modi, who has been attending the United Nation Climate Change Conference at Paris, the students of Punjab Agricultural University (PAU) are also showing their concern for climate change at the ongoing Inter-College Youth Festival 2015-16. Students from various departments came forward to make the university campus "climate conscious".
Students led by Dr Gulneet Chahal, coordinator of the certificate course in Interactive Skills and Personality Enhancement, will inaugurate a campaign "PAU for Planet" during the youth festival. They will hold a "Curtain Raiser Solar Bake Sale" i.e. they will sell the cakes baked in solar cookers and the money collected will be spent on the installation of solar lights on the campus.
The students associated with the campaign also made several posters to make the students aware about the affects of global warming and solar energy.
Dr Gulneet Chahal, in charge of the drive, said, "It is an awareness campaign in which we want the youth to contribute wholeheartedly.
"We have conducted a survey in top 10 colleges of the city about the awareness on global warming. As many as 1,000 students participated in the survey. We have asked them several questions on global warming. After conducting the data analysis, we found that around 70 % students were aware of the issue. But we are concerned about the 30% who are unaware. The number of unaware youth would be higher in rural areas. So, we are starting this campaign for the 100% participation of youth," Dr Chahal added.
As per the proposed plan of the drive, the students will install 150 solar lights on the PAU campus. They are expecting contribution from local industrialists as well.
The students will also promote cooking in solar cookers and other solar and renewable energy equipment.