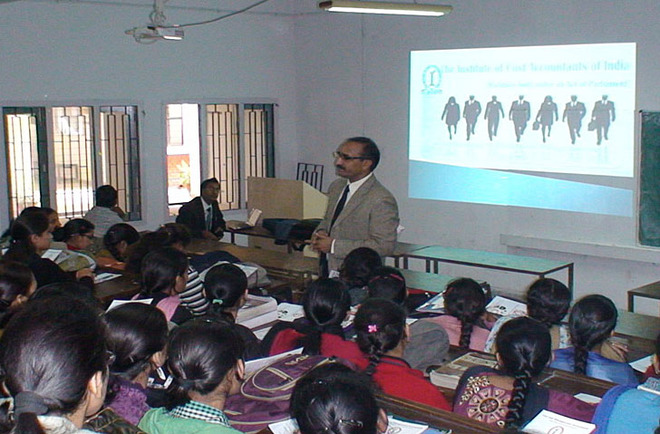 Aarti Kapur
Tribune News Service
Chandigarh, May 8
Students of four government colleges of the city will be facilitated with e-notes from the next academic session.
The UT Higher Education Department is introducing this facility to give benefit to those students who because of some or the other reason miss the classes of any particular subject or want to revise the lecture for better understanding.
As per the plan, a recorder will be installed in all smart classrooms where projectors are already available in four colleges through which lectures of the particular subject will be recorded. The recorded audio will be available at computer laboratory for students of the respective college to access. They can also get it issued to revise it at their home. In all four government colleges, proper computer labs and seating facility were available, which vary from college to college.
As per the data, around 50 per cent of the classrooms have already been converted into smart classrooms by the department. It is also in process to get the lecture downloaded on the website of the respective college so that any student of any institute could have an access to it for reference.
UT Education Department (Higher Education) DPI Sandeep Hans said the plan had already been discussed with the team of the Society for Promotion of IT in Chandigarh, which will work on it before the next academic session. He said this was the initiative taken by the department for introducing e-campus solution.
Stepping ahead to resolve the issues of faculty relating to promotion and increment, the department has decided that the data of all faculty members will be upload on e-campus solution for necessary action. As and when any employees' promotion or increment is due, system will give an alert to the department and there will be no need to ask the head of the institute to send the annual confidential report of the employee for taking action.
Top News
Jammu and Kashmir Lieutenant Governor Manoj Sinha and politi...
Cops say case cracked within three days with the arrest of a...
Indonesia football association suspends league to investigat...
Samajwadi Party patron is under treatment in Gurugram hospit...
DGP dismisses Mansa CIA Incharge, FIR registered against err...