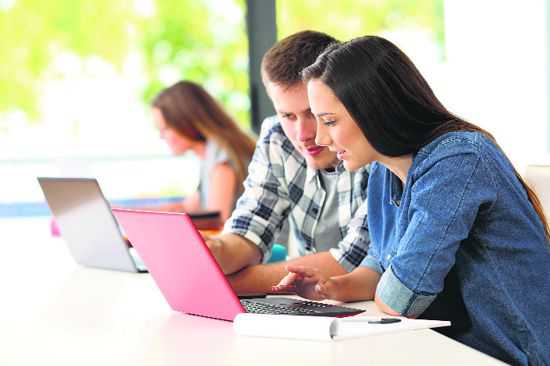 Rishabh Sharma
There is a huge demand for efficient and accessible learning platforms. The medium of video-coaching fits the bill. It can help students train themselves for competitive exams, such as NEET, CAT, GATE and UPSC. Over the years, it has become a very popular mode of learning. Virtual coaching institutions such as NEET Prep, Topper, Aakash iTutor and Unacademy are enabling students prepare for competitive exams.
"You cannot replay a lecture from a coaching centre at four in the morning, but a video-learning platform gives you the option to do so," says Himanshu Sharma from Batala, who aspires to crack the National Eligibility Entrance Test this year. Its biggest benefit is that it is affordable. It doesn't cost the enormous fee structures of coaching centres. Also, one doesn't have to spend on expensive accommodation in other cities.
It can become extremely stressful for students from rural and semi-urban areas for not having access to the right preparation material for entrance examinations. Kapil Gupta, founder of GoodEd Technologies says, "Not everyone can afford living in metropolitan cities and study in expensive coaching institutes. Video coaching has helped students from across the country to break the social and economic barriers and build a successful future for themselves."
Adding quality to learning
Video coaching has improved the quality of education. Now that a lot of institutes are exploring this segment of education, competition among coaching centres has become tougher. However, it has worked to the advantage of students. Coaching centers and online-learning platforms are thus exploring innovative techniques to make learning easier and more interesting. This not only benefits the students, but also helps teachers improve their teaching skills and provide the aspirants a better experience of learning.
Rajshekhar Ratrey, the CEO of Topper says, "Video coaching makes for a holistic platform. It helps clear the concepts of students without convoluting these." The biggest advantage of coaching platforms is that students can now save their time and energy, which earlier they wasted while travelling huge distances to study in a coaching center.
Convenient for students
Students from any region of India can educate themselves and clear their concepts with the help of online platforms. Smile Sindhu(17) from Ferozepore got to know about an online video coaching platform through Youtube advertisements. She believes that her learning ability has improved and her preparation is good, thanks to NEET Prep, a coaching application, which she was using.
Besides the quality of education imparted, there is a huge disparity between the fee structures of physical and virtual coaching centres. A NEET aspirant pays, on an average, a whopping one to 1.5 lakh annually to a coaching centre, where as similar courses online can be studied at an expense of about Rs 30,000 to Rs 40,000. "Why would I go to live in far-off city when I have access to the same study material and guidance at home?" says Sonia, 23, from Ludhiana.
A good news for parents
Virtual coaching centres is not just beneficial for aspirants, but also for their parents. Gaganjyot Sood, mother of Jaskaran Singh, who is a NEET aspirant says, "I subscribed video coaching for my son and he is very satisfied with the classes today". Amardeep Singh, an advocate from Gurdaspur, father of another aspirant, believes that tutors in the coaching centers are always in a hurry to finish the syllabus. But, video-coaching websites are not bound by time and place.
Video coaching has revolutionised coaching for competitive preparations. No wastage of time and affordable prices have made it a favourite mode of learning for students.
Breaking barriers
Students from tier II and other smaller cities have little or no access to quality education. Living in a paying-guest accommodation far from home is not easy for a student. Video coaching, in this scenario, has proved to be a boon for students. It brings the necessary content for their preparation to their doorstep and at affordable prices. Students from rural areas are participating as much. Dreams of students from non-descript towns to pursue education in elite institutions is now turning true.
At your doorstep
More than 13 lakh students have applied for NEET this year, out of which approximately 7.5 lakh were girls and the rest were boys. With the applicant rate so high in number, the coaching centers get overcrowded. Video coaching promises more time and customised training. So far, NEET Prep, an online coaching portal has 4,000 students registered in a batch and are expecting 6,000 more by the mid of next year. Out of the 22 districts in Punjab, students from 15 districts have been enjoying the benefits of video-based learning.
Applications and websites such as NEET Prep; Topper; Aakash iTutor; Study I.Q. and Unacademy are the ones where you can find beneficial courses for NEET, UPSC, JEE and GATE preparation.