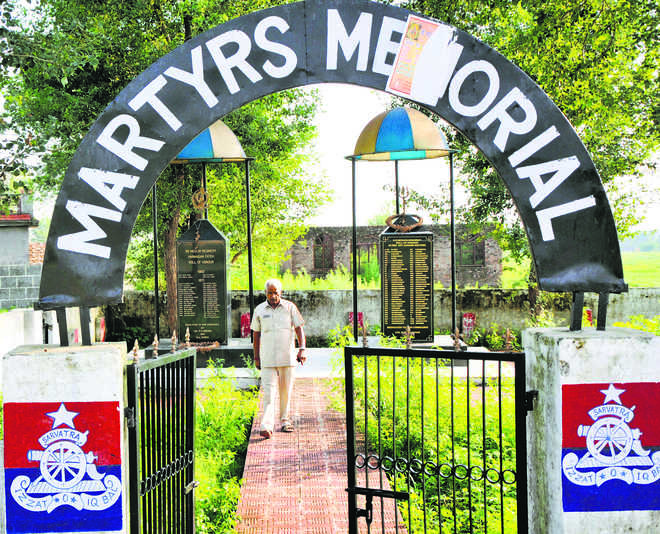 Amir Karim Tantray
In the Chhamb sector of Jammu region, people still have memories of the 1965 War etched in their minds. Scenes of air strikes, shelling from the other side of Cease-fire Line, later renamed as Line of Control, and abandoning homes to take shelter at safer places during the 1965 War still haunt people living in this Jammu district. Thousands of people of this belt were rendered homeless after Pakistani army captured the area till Naiwal, near Akhnoor, during the war. Areas of Chhamb, Jaurian, Pallanwala, Kalith and other adjoining villages were captured by Pakistan and people had to migrate to safer places.
Recounting the horror, Neku Ram Sharma, a retired lecturer, and resident of the Thangar area of Pallanwala, whose father was killed in the airstrikes by Pakistani fighter jets on September 2, 1965, says: "When the shelling began, we abandoned our houses and migrated to the Mandi Wala area near Jaurian on September 1 and left everything behind. On the morning of September 2, the Pakistani air force started shelling in Jaurian. The shells hit civilians killing many people and injuring scores of others." He adds: "My father, Kripa Ram Sharma, was also injured but I never found him again, neither among the dead nor the injured." Few days later, someone informed the family that Kirpa Ram Sharma was hit by a shell and was spotted near a canal. "My grandmother died while waiting for her son." Pakistan had started the attack in the area by first sending in guerrillas. They did recce of the area and took locals as hostages. Their main motive was to terrorise people near the LoC.
Bodh Raj of Rajwal area of Akhnoor, retired from as zonal education officer. He saw the war from close quarters. "The guerrillas were decapitating locals and taking their heads along." Bodh Raj's first posting after being appointed as a teacher was at Nawa Chak village, which is now in Pakistan-occupied-Kashmir. "In August, shelling from across the LoC began. The Pakistani army attacked from two sides, one along the banks of River Chenab and another from the hilly areas of Chhamb," Raj says. At that time, security arrangements along the LoC were not sufficient, which allowed Pakistan to enter deep inside the Jammu region.
"Few personnel of Punjab Armed Police (PAP) were posted at some sites and the border was open. No fencing or Ditch Cum Bandh (DCM) was in place," adds Sham Lal Sharma, Pradesh Congress Committee (PCC) senior vice-president, who was studying in Class II when the war started. "Our ancestral village, Palaton was situated near the LoC and we had to migrate from there. We first moved to Chak Malal and from there to Mandi Wala near Jaurian. Eventually, we migrated to the Muthi area near Jammu," Sharma says.
"From Muthi, segregation of people started. Serving and ex-servicemen were moved to Jajhar Kotli and we were taken to the Chidyayi area near Tikri in Udhampur district. We only came back to our homes after the Tashkent agreement," he recounts. This area remained under the occupation of Pakistan till Tashkent Declaration of January 10, 1966, and all structures, houses and public property were either damaged or set ablaze by the enemy. "Everything was damaged," says GD Sharma, Sham Lal Sharma's elder brother, who works as a librarian in a government school, Pallanwala.
After half a century, life has taken its normal course but the wounds of the war haven't really healed. The victims doubt if these ever will, because there is no compensation for the loss of loved ones.
---
Read more in '50 Years of 1965 War' special:
Top Stories