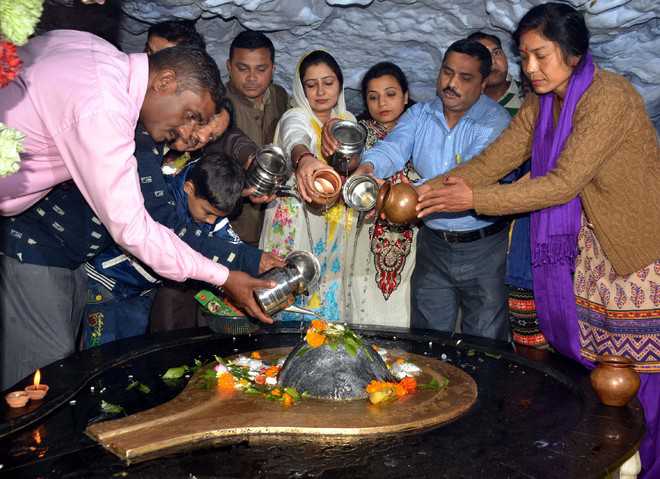 Our Correspondent & PTI
Dehradun, March 7
Uttarakhand today echoed with the chime of temple bells and chants of "Har Har Mahadev" as devotees thronged Shiva temples across the state to pay obeisance to Lord Shiva on the occasion of Mahashivratri.
Long queues of men, women and children were spotted outside Tapkeshwar Mahadev temple, Prithvinath Mahadev temple and Siddheshwar Mahadev temple in Dehradun waiting for their turn to offer holy waters of the Ganga and milk to Lord Shiva to mark the occasion celebrated across the country as the day when Lord Shiva wedded Goddess Parvati.
It is also believed that Lord Shiva saved the universe by drinking poison that emerged from the churning of the ocean.
Elaborate security arrangements were made around Tapkeshwar Mahadev temple which receives devotees, including Kanwariyas.
Ancient shrines dedicated to Lord Shiva in riverside towns like Haridwar, where the Ardh Kumbh fair is under way, and Rishikesh witnessed an unending stream of devotees throughout the day.
Lakhs of devotees descended on the banks of the Ganga in Haridwar to take a holy dip in the river.
A bath in the Ganga on Mahashivratri during Ardh Kumbh holds special significance for devotees this year due to the coincidence of Shivayog and Mahamrityunjay Yog.
On an alert following intelligence inputs about LeT and JeM terrorists having entered the country through Gujarat, security was beefed up throughout the mela area in Haridwar, especially on the popular ghats like Har-ki-Pauri, Subhash ghat, Malviya ghat and Mahila ghat where lakhs of devotees gather on important days like this for a holy bath.
Huge rush in Kumaon
Devotees thronged Shiva temples across the Kumaon region on Shivratri today.
A huge rush was witnessed at Bagnath temple in Bageshwar, Baleshwar temple in Champawat, Jageshwar temple in Almora and Rameshwar temple in the Pithoragarh district.
Dr Madan Chandra Bhatt, a historian from the region, says these puranic temples exist in the region since ancient era which proves that Shiva's worship has been going on for centuries here.
In Almora, a huge rush was witnessed at the temples of Lord Shiva right from early morning till late evening. Apart from the world famous historic temple of Jagannath in Jageshwar near the town, a huge footfall was seen at Shiva temples of Badreshwar, Parvateshwar, Kamleshwar, Betaleshwar, Somnath, Viswanath and Someshwar temples across the district, said a local journalist.
Local historians and priests say most of the Shiva temples find a mention in Manaskhand of Skand Puran. So the Shiva temples in the region have a special significance, said Dr Madan Chandra Bhatt, a historian.