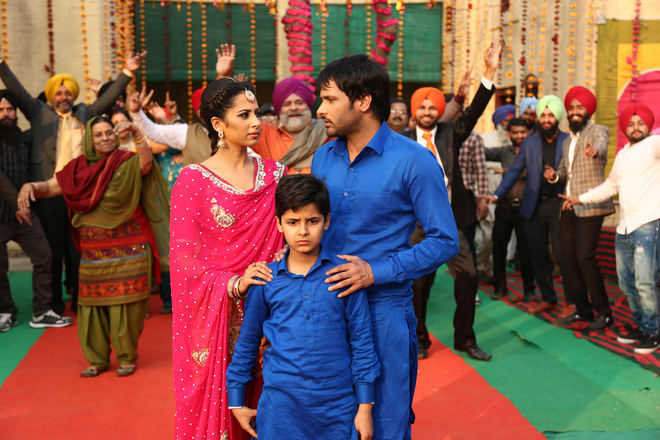 Jasmine Singh
The rivalry between Rajesh Khanna and Amitabh Bachchan is not unheard of, and leading actors convincing the directors to cut the on-screen time of another leading actor in the same film is not unheard of either. So this brings us to acknowledgment of existence of the word rivalry. And now, the same word, in some tricky way has seeped in the Punjabi film industry. Without making any effort to hide itself, it is out in the open now, giving disturbed nights to the members of the Punjabi entertainment industry.
The most recent example of two leading Punjabi film stars, Gippy Grewal and Amrinder Gill deciding to release their films, Ardaas and Love Punjab respectively, on the same date brings out the rivalry out in the open. Insiders in the industry say that despite repeated requests by many well-wishers, the two actors wouldn't budge from their stand. In fact, the entire team of Love Punjab is raising hue and cry over their movie trailer being removed from youtube. Amrinder Gill has mentioned on his Facebook page that he knows who has done it. On the other hand, Punjabi singer A Kay, has posted on his Facebook page his take after his song was leaked for the umpteenth time now. Healthy competition is a considered good, but using social media as a tool to make this competition unhealthy, is it a done thing? The Punjabi movie industry rises against it for once, even when they know everything is fair in love and war.
Clash of the titans
It is for the first time that two big films Ardaas and Love Punjab are releasing on the same date, March 11. Amrinder Gill who is perturbed about the whole thing, doesn't want to get down to the mudslinging game. "You can read my Facebook post. At the same time I wonder why two Punjabi films cannot release at the same time, if both the films are good, they would do well. Gippy on the other hand shares, "I work for the betterment of Punjabi films, I am also game for healthy competition." On the subject of deletion of the trailer of his film Love Punjab from youtube through singer actor Raj Kakra's fake account, Amrinder says, "Raj Kakra has said what he has to say. He will be bringing the culprit out in the open soon."
The competition seems to be turning real bad in the industry now, something that was unheard of years before or was it? Actor Sardar Sohi blames this to the competition that is rising in Punjabi cinema. "Since not many Punjabi films were made earlier, there was no competition. Now with the rising stature of Punjabi cinema, competition and rivalry both are rising." Sardar Sohi, however, doesn't approve this kind of a thing. "No matter what stars say about a good film standing the test of time, it is the other actors who will be affected by groupism and audience getting divided due to films releasing on the same date."
All is not fair
As film promotions on social media are picking pace so are the ways to obstruct these promotions. Leaving negative comments, negative posts from fake accounts, deleting videos, are fast becoming a norm. Singer A Kay has fallen prey to this many a times. His videos have often been leaked on youtube, something that he is fed up with. "Insecurity is one aspect that artistes tend to hide. This leads to them resorting to some 'nasty' measures like deleting videos or releasing fake videos." A Kay whose soon-to-be released track has already been leaked, adds, "It is always the work of people close to us, but then what can you do. The competition has become unhealthy with the passage of time."
They speak
So far, so sad: harish verma
We usually have two Hindi and two English releases on the same date ideally. But Punjabi films have just about managed to create a space, and, now releasing two films on the same date means dividing the audience. As far as playing dirty games on social media, I was surprised to see that my youtube clipping of getting Best Actor Award by PTC has strangely been removed.
Industry, the new shareek: ranjit bawa
Now Punjabi industry has become the new shareek.The artistes of Punjabi entertainment industry have stooped to the lowest level by deleting videos, hacking pages and getting them deleted, creating fake dislikes, and mind you, big or small, all actors and singers are using such tricks on social media. Tomorrow, I wouldn't be surprised if instead of zameen de case we are solving social media de cases in kacheri.
Getting ugly: rana ranbir
It is nobody from outside, but the industrywallas who have gone down to this level of dirty competition. And, this thing will definitely affect actors like me who see this place as a professional ground. After all it is our name, which is at stake.
jasmine@tribunemail.com