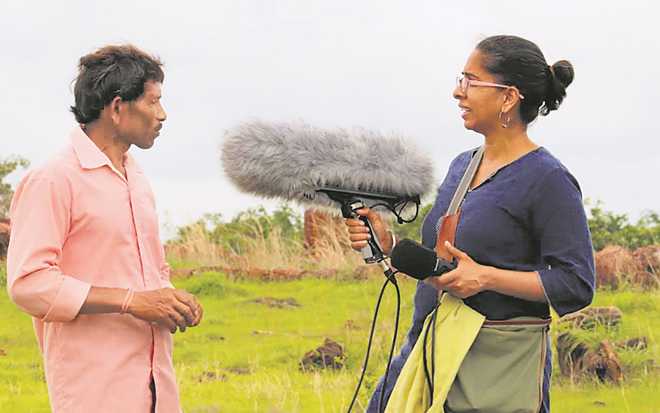 Arushi Chaudhary
As one of the oldest civilisations in the world, India is a goldmine of archaeological and palaeontological treasures. A wealth that remains largely out of the mainstream focus, save for a few isolated 'big' discoveries making headlines now and then. Driven by her love for audio stories and a newfound passion for archaeology and palaeontology, journalist Anupama Chandrasekaran is endeavouring to effect a change in this arena through her podcast channel, Desi Stones and Bones.
For a business journalist, the choice of her podcast niche is atypical. Talking about the journey that inspired this concept of a podcast that focuses on excavating palaeontological and archaeological stories as well as the people behind it, Anupama says, "I had always been drawn towards the audio format of story-telling. This interest led me to discover the world of podcasts. This was around 2013. At the same time, I chanced upon the book, Indica: A Deep Natural History of the Indian Subcontinent, by Pranay Lal and was fascinated by its insightful revelations that put a lot of things from our present existence into perspective as well. That's how this love for podcasts and archaeology and palaeontology took form."
However, it wasn't until a couple of years later that Anupama decided to tap into this budding passion to embark on a new career path altogether. "I was already exploring the idea of a podcast venture but hadn't found the perfect subject to base it on. It was then that I met Pranay Lal at the Hindu Literary Festival in Chennai. His enthusiasm and love for the stories from these two fields was infectious and acted as the nudge I needed to realise that these were the stories that I wanted to tell, because they became a part of my consciousness from moment I heard them," Anupama says.
Lack of technical know-how was the only stumbling block in her way now. As a print journalist, her understanding of sound equipment was limited. So, she began by learning about the various tools needed to put together a podcast and how to use them. "Once the technical aspects were taken care of, the craft of storytelling itself became easy," she says.
Anupama has kept her treatment of podcasts on Desi Stones and Bones unique by following her instinct on the best way to tell a story. Keeping podcasts conversational at times and descriptive at others, she uses varied techniques and approaches, often going with her gut on what would be best.
"It takes me about a month to complete a single podcast, because in addition to travelling to excavation sites and meeting with experts, I also single-handedly record the entire audio, then clean it up as sound quality is paramount in podcasts, write my script, record it, supplement it with other relevant audio bits and music, and also illustrate the key points of every story. So, it's a bit of a long-drawn process but one that is immensely satisfying as these are beautiful stories that deserve to be told."
Desi Stones and Bones has released four podcasts in its year-and-a-half long journey. The first podcast was an interview with the man who catalysed this whole idea — Paranay Lal. Subsequent episodes have touched upon topics such as archaeologists trying to understand the timeline of human migration in India through Stone Age tools and dinosaur egg fossils discovered in Madhya Pradesh.
The upcoming fifth episode focuses on 'fossils in action' with special emphasis on the recently unearthed fossil that shows a snake crushing dinosaur eggs stamped onto a rock alongside some dinosaur bones.
Speaking about her experience so far, Anupama says, "It has been a rewarding and satisfying journey. Working on these stories is refreshingly different than journalistic reporting. Here, I deal with a close-knit community of experts who are more than willing to come forward and share their stories, help me learn, point my research in the right direction. There are no guarded responses or truths being swept under the cloak of carefully worded statements. These experts hold the key to a fascinating parallel universe of sorts and they are happy to let in anyone seeking to be a part of it."
Anupama concurs that given the limited popularity of podcasts in India, a niche like archaeology and palaeontology may not evolve into an economically viable model sustained by sponsors and advertisements. "That's not what I set out to achieve. I consider myself a student of these two fields who is learning on the job by way of experiencing the nuances first-hand and filling in knowledge gaps through research. My vision for this podcast channel is to turn all this audio footage into archival information that students of these fields can benefit from in future," Anupama says.