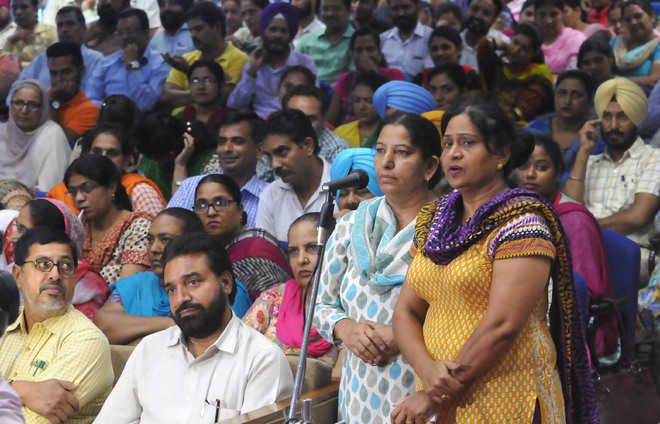 Amaninder Pal
Tribune News Service
Chandigarh, July 13
"Sir, I am confused", "Sir, I am not well", "We can't change students' brains". These were some of the explanations given by teachers to Education Minister Dr DS Cheema when questioned on the poor results.
The minister had summoned 800 teachers — five lowest performers from each district — at the Punjab School Education Board (PSEB) auditorium in Mohali today to "discuss" the challenges they faced at work. With an English teacher misspelling "different" as "diffirent" and "syllabus" as "sylabbus" and a Punjabi teacher committing multiple errors, it sadly turned out to be a "comedy class".
(Follow The Tribune on Facebook; and Twitter @thetribunechd)
An English teacher posted at Government Senior Secondary School, Chhapa, Barnala, introduced himself thus: "I has been teaching English." Asked about the question paper, he wrote: "All the questions were very style of English learning (sic). There may be shortcoming in the textbooks of English according to the understanding of different teachers (sic)".
On whether any question was out of syllabus, a Social Science teacher from Ferozepur, wrote: "No any question out of syllabus in the question paper (sic)." Only nine of the 28 students in his class could pass the exam. Asked why so, he told the minister, "I was on deputation for five months at the department's in-service training centre to train teachers." The minister responded, "Please don't teach teachers, teach yourself."
Read more: Punjab English teachers 'flunk' Education Minister's test
Asked why only 11 students in her class had cleared the exam, an English teacher from Hoshiarpur, wrote: "These are not doubt that the question paper of 10th class prepared according to syllabus. Level books are appropriate. But something students feel hard to learn."
A Pathankot-based Punjabi teacher committed 15 errors in four sentences! Horrified, the minister summoned her boss — the Pathankot District Education Officer— who put forth a strange explanation."Sir, in Pathankot, people speak a Dogri dialect and, hence, these minor mistakes."
The principal of Ramgarh Jawandha village in Sangrur kept insisting that her school's result was "positive" until bluntly told that it was a mere 53 per cent.
Dr Cheema claimed that the number of teachers who were not experts in their subjects was quite low. "The purpose of today's meeting was to persuade these teachers to upgrade their teaching skills.The intention was not to embarrass them, but to ensure they performed better," he added.