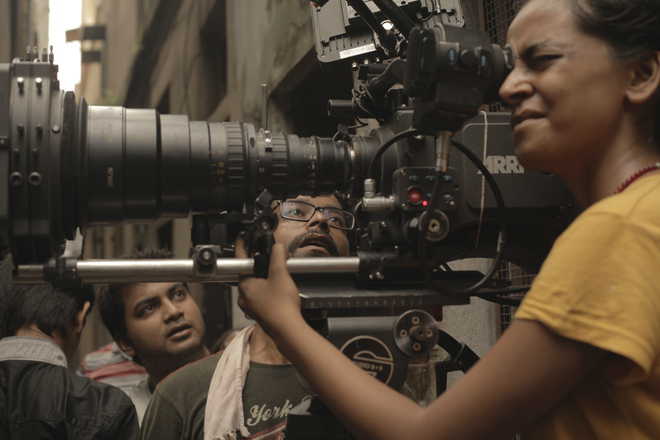 Saibal Chatterjee
India has been blanked out in the official selection of the 72nd Cannes Film Festival. In the Directors' Fortnight and Critics' Week, too, the world's largest movie-producing nation is conspicuous by its absence. But thanks to three promising young professionals — two directors and one cinematographer, all alumni of the Kolkata-based Satyajit Ray Film and Television Institute (SRFTI) — Indians attending the festival will have some cause to cheer.
Meghalaya's Dominic Sangma, Darjeeling lad Saurav Rai (who has been in the Cannes official selection once before) and cinematographer Modhura Palit will participate in three different segments held in partnership with the 12-day Cannes Film Festival (May 14 to 25). The trio does not represent mainstream Indian cinema. They will instead provide the world a few glimpses of the future contours of independent films from the subcontinent.
Sangma (32), who wrapped up his debut film, the Garo-language Ma'Ama (Moan) last year and is looking for international festival openings, will be in Cannes to explore co-production deals for his sophomore effort, Rapture. The under-production film is one of 10 projects in La Fabrique des Cinema du Monde, a programme developed by Institut Francais.
It invites 10 directors working on their first or second features to the Cannes Film Festival, along with their producers. Sangma, a former National Film Development Corporation employee who now teaches direction and scriptwriting at the Film and Television Institute, Itanagar, will be participating in the networking programme with Chinese co-producer Jianshang Xu, who was also involved in the making of Ma'Ama. Rapture is the third Indian film in the La Fabrique programme since it was launched in 2009. Gitanjali Rao's Girgit (2011) and Tushar Prakash's Liberation (2015) were the first two.
Sangma's film alludes to rising intolerance and incidents of mob lynching. It is set in a village gripped by the fear of a child-kidnapper. The church warns people of "apocalyptic darkness" for 80 days. For a 10-year-old boy, the atmosphere turns ominous like never before.
"I want to explore the idea of mass reaction when people are provoked through fear, anger and confusion," Sangma writes in his statement of intent.
The up and coming filmmaker will receive guidance from the seasoned director Mira Nair, the first Indian to win the Camera d'Or in Cannes (for Salaam Bombay, 1988). She is the patron of La Fabrique 2019. Auteurs like Cristian Mungiu, Brillante Mendoza and Jia Zhangke have been patrons of the programme in previous years. This year's selection includes Bangladeshi film, Sand City, directed by Mahde Hasan and produced by Rubaiyat Hossain's Khona Talkies, a Dhaka-based outfit.
Another gifted SRFTI alumnus Saurav Rai, 33, will be pitching his debut work-in-progress, Nimtoh (Invitation), in the 'HAF (Hong Kong — Asia Film Financing Forum) Goes to Cannes' programme in the festival's Marche du Film (Film Market). It is among the five projects selected by HAF Work-in-Progress Lab in March — to participate in a pitching session in Cannes. Co-producer Sanjay Gulati will be in attendance. The HAF winners will make their presentations in a two-hour session on May 18. This is Rai's second trip to the festival — he was here in 2016 with Gudh (Nest), a 28-minute short film that played in the Cinefondation Competition for works by film school students. He was India's sole representative in the Cannes official selection that year.
Rai spent his childhood between Darjeeling and Kathmandu. Gudh was an impressionistic, evocative account of the time he spent with his parents in a village in Darjeeling district and his grandparents in Kathmandu. Nimtoh promises to be another story inspired from his own personal experiences.
The synopsis of Nimtoh reads: "Little Tashi and his grandma are tenants guarding a cardamom orchard for a family. An approaching wedding at their patron's house excites Tashi. Will he be invited?"
Elsewhere in the festival, Kolkata cinematographer Modhura Palit, 28, has been invited to what promises to be an event worth celebrating — the 7th edition of the Angenieux Excel Lens in Cinematography ceremony. She will receive the Angenieux Special Encouragement, which is given to a young professional who is beginning to make her mark. Palit, like Sangma and Rai, is an SRFTI alumnus. The ceremony is scheduled for the evening of May 24.
The first winner of the Special Encouragement, introduced in 2018, was the young Chinese DOP Cecile Zhang. She was supported by Angenieux throughout the year. The recognition will entitle Palit to the use of the best Angenieux lenses on her next project.
Named after the founder of the 80-year-old French company that makes high-end zoom lenses and is an official partner of the Cannes Film Festival, the tribute will be bestowed this year on the five-time Oscar-nominated French director of photography Bruno Delbonnel.