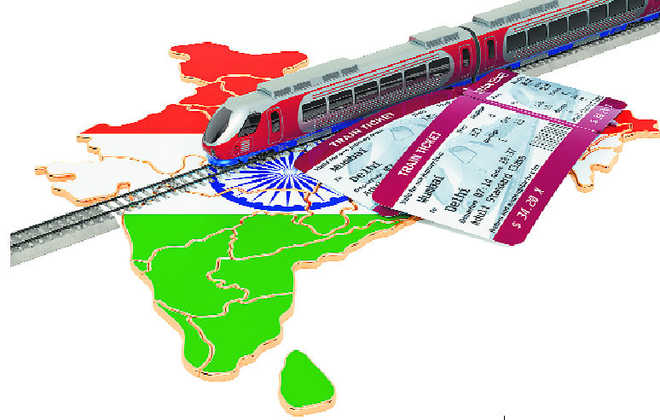 Usha Albuquerque
As kids we have been fascinated by trains, and look forward to train journeys. Train journeys in India offer lots of excitement, as the railway system covers the entire country so people from Dimapur in Nagaland in the far east can travel to Amritsar in the north-west, while pilgrims from Kanyakumari at the southern most tip of India can pray at the Amarnath shrine in the Himalayas.
The Indian Railways is the fourth largest railway system in the world and carries 8.26 billion passengers and 1.16 billion tonnes of freight on more than 20,000 passenger trains daily through over 68,000 route kilometres and more than 7,349 stations, across India.
This vast infrastructure needs professionals to ensure its smooth and efficient working. The railways employs 1.3 million employees providing opportunities for a range of professionals from the administrative and financial spheres to engineering, medical, teaching and computers.
So, if you are looking at a job with the Indian Railways your best bet is to apply for selection through the Recruitment Boards (RRBs) and Railway Recruitment Cells (RRCs) which announce thousands of vacancies each year for various posts in Group C and D like Junior Engineer (JE), Non-Technical Popular Categories (NTPC), Paramedical, Ministerial and Isolated Categories (MI) and Level 1 Group D Posts. The Group-C posts in Indian Railways are Supervisory posts.
The posts are divided into technical cadre and non-technical cadre, and recruitment is done on an All-India basis.
The technical departments include Engineering, Mechanical, Electrical and Signal & Telecommunication, and Senior Section Engineers, Junior Engineers and Technicians.
The Group D recruitment is for sundry posts for Trackmen, Porter, helper etc.
Thus, the focus of Railway Recruitment Board is solely on Group C and D through Competitive Exams followed by Interview process and other necessary recruitment processes.
Group C Posts for which recruitment is done are RRB NTPC (Non-Technical Popular Category), RRB Technical Cadre and RPF Sub-Inspectors/Constables.
Group D recruitment is for Trackman, Porter, Helper-II (Mech), Helper-II (S&T), Gr.D Engg., Helper-II (Elect), Gr. D (Store)
RRB Group C exam
The overall selection process consists of two stages. In the first stage, there is a Computer-Based Test (CBT), common for all, including Assistant Loco Pilot and Technicians. The paper has 75 objective type multiple choice questions on general science and mathematics of Class X level, general intelligence and reasoning, and current affairs. The time allotted to complete this paper is 60 minutes.
The second stage of the computer-based test has two parts. Part A consists of 100 questions on the same four topics to be answered in 90 minutes, followed by Part B with 75 questions in 60 minutes on a relevant trade.
Based on the performance in the CBT Part B the successful candidates will be called for the document verification in the next round.
Group C exam for Non-Technical Popular Category (NTPC) posts also follows a pattern based on the necessary skill set required for each post. Every post has a two-stage computer-based test, where the typing skill set is required for a few posts and for other posts an Aptitude test is conducted before proceeding with document verification.
A two-stage computer-based test followed by document verification is required for posts of Commercial Apprentice, Traffic Apprentice, Enquiry-cum-Reservation Clerk and Goods Guard, while a two-stage Computer Based Test, and Typing skill test, is required followed by document verification for posts of Junior Accounts Assistant-cum-Typist, Senior Clerk-cum-Typist and Sr. Time Keeper.
An annually conducted entrance exam in a written format is conducted for recruiting individuals for the posts of Assistant Station Master and Traffic Assistant. It is a single phase written entrance exam which comprises of 100 to 120 odd questions belonging to the categories such as Language General Hindi/General English, General Awareness, Analytical and Quantitative Skills and General Arithmetic.
There are two distinct routes to a career in the Indian railways
Gazetted (Group A and B)
Non-gazetted (Group C and D) employees.
While Group A Officer positions are filled in by the UPSC Civil Services exams, the Railway Recruitment Board does recruitment of Group C and D which together account for almost 98 per cent of the railway personnel, through 21 Railway Recruitment Boards (RRBs) and 16 Railway Recruitment Cells or RRCs across India. The posts of Group B are filled in by direct promotion from Group C.
Railway Group C Technical Post
The skill set required for Technical Post is different from other Group C posts. The basic qualification is an engineering qualification whether Civil, Technical, and Mechanical engineering and other similar disciplines with respect to the post. Age group can be between 18 years and 27 years.
The exam of 90 minutes duration with 100 questions to be answered follows a pattern in line with educational standards for the posts applied for and covers :
General English
General Arithmetic
Analytical and Quantitative Aptitude
General Knowledge
Questions based on educational/technical qualification related to the post.
Following the Written Exam, based on the requirement of posts, verbal/skill test and psychological tests are conducted, and then the document verification is done.
Railway Group C RPF Sub-Inspector/Constables
In addition there is recruitment for posts in the Railway Group C RPF Sub-Inspector/Constables which have two divisions i.e. Executive Branch and Fire Service Branch. The educational qualification for the Executive Branch is a bachelor's degree or equivalent from recognised university, while the Fire Service Branch requires Intermediate/Higher Secondary (10+2) with Science and Sub-Officers Course or equivalent Diploma in Science or Fire Fighting. Sub-Inspectors should be between 20 to 25 years of age and Constables can be between 18 to 25 years. The selection for Sub-inspectors in the Executive and Fire Service posts is a three-stage process where importance is given to physical fitness. Those candidates with specified physical fitness i.e. height, weight, can be selected to take up the Preliminary efficiency test. Those qualifying the 2nd stage of the PET can sit for the written test. The syllabus for written test consists of -
General Knowledge: 100 marks (1 hour); Objective type questions on past/current affairs, History, Geography, Hindi, Mathematics, and Science
General English: 50 marks (1 hour); Questions on Grammar, Precise Writing, Correction of Sentences, Annotation of selected Paragraphs/Poems and more.
Essay writing in English or Hindi: 50 marks (1 hour) 300 words
Constables are also selected in a similar 3-stage process which includes a physical fitness test, a written test and Interview.
RRB Group D
The recruitment of Group D posts in the Railways is for seven posts - Trackman, Porter, Helper-II (Mech), Helper-II (S&T), Gr.D Engg., Helper-II (Elect), and Gr. D (Store) . The basic eligibility is Class X pass along with a National Apprenticeship certificate or ITI certificate. The selection process for RRB Group D posts consists of :
Computer Based Test (CBT) which covers subjects such as general science and mathematics of Class X level, general intelligence and reasoning, and general awareness on current affairs related to science & technologies, sports, culture, personalities, economics, and politics.
Physical efficiency tests (PET)
Document Verification and Medical examination
Apart from these positions RRBs also recruit teachers, physical instructors, doctors in various departments, nurses and paramedical personnel through countrywide written tests. Recruitment to the railway services as with all government posts is open to both men and women candidates.
Check out details on the website https://rrbonlinereg.in/ and http://rrbald.gov.in/ as also exam dates and schedules.
Benefits perks
As in other government jobs, the railways offer a secure and meaningful career with a number of benefits and facilities, including subsidised train travel across the country. In turn you need to have a good sense of responsibility, an ability to interact and work with all kinds of people, discipline, and a willingness to work according to government hierarchy.
Top Stories