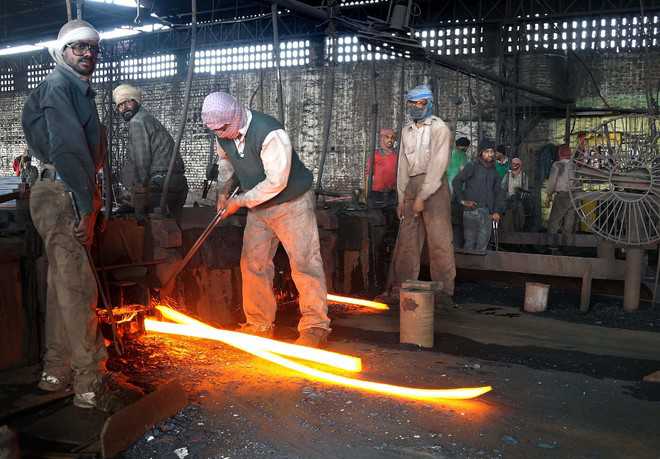 Vijay C Roy
Tribune News Service
Chandigarh, October 16
At a time when the industry in Punjab is making a hue and cry over government policies, steel re-rolling mills have set an example for others.
Perturbed over the high energy cost in the manufacturing process, over 130 steel re-rolling mills in the industrial town of Mandi Gobindgarh have opted for energy-saving measures.
The move has not only resulted in saving the huge energy cost which constitutes 40-45 per cent of the total production cost, but also enabled them to sustain themselves in the competitive domestic market.
Through different energy saving measures, the industry brought down the energy cost to 10-25 per cent.
Over the years, around 100 rolling mills have closed down in the state due to high input cost and the highly competitive domestic market.
Currently, 275 mills in Punjab are producing over 40 lakh tonnes of steel. Further, these mills consume 2.5 lakh tonnes of coal worth Rs 341 crore per annum in addition to electricity.
"The energy cost constitutes around 40-45 per cent of the total production cost. Over 50 per cent of the total steel re-rollings in Mandi Gobindgarh opted for energy saving measures which brought down the energy cost to 10-25 per cent.
"The payback period of energy saving measures is around six months to two years. The move not only helped us in saving the input cost, but also helped us stay afloat in the domestic market and remain competitive," said Vinod Vashisht, president, All-India Steel Rolling Mills Association.
According to a senior official in Punjab State Council for Science and Technology (PSCST), these mills used to operate at a poor thermal efficiency of 20-30 per cent, resulting in wastage of precious heat energy.
Also, during combustion, flue gases used to be generated from the combustion of pulverised coal in these rolling mills which are emitted at very high temperatures.
With the assistance of PSCST, the industries deployed technology for pulverised coal fired mills for the first time in the country. This resulted in 8-10 per cent fuel savings with average financial savings of Rs 10 lakh/annum (payback period is only 3-4 months). Over 50 mills have availed of the benefit of this technology.
Also, the industry in assistance with PSCST tackled the problem of pollution which also resulted in energy saving.