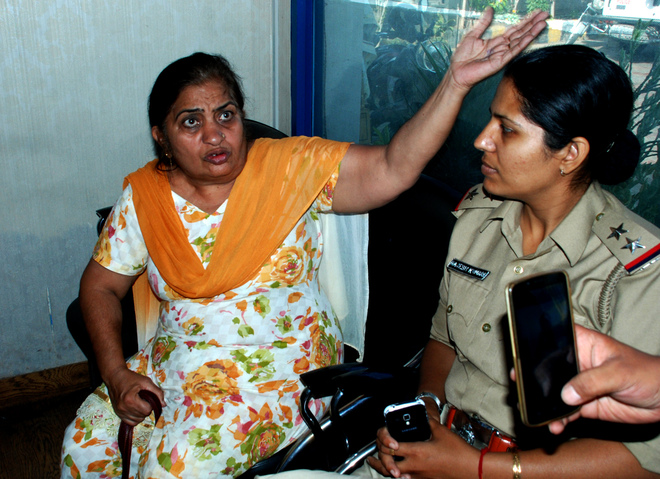 Tribune News Service
Panchkula, May 29
In a broad daylight incident, a 67-year-old woman was robbed of her gold bangles worth Rs 1.25 lakh by three persons, including two women, belonging to the Sansi gang after offering her a lift in the Mansa Devi Complex, Sector 5, here today.
The victim, Santosh, a retired Class I officer and resident of the area, was walking to her house when the incident took place in front of a petrol pump. The gang has been on the prowl for the past eight years and targets only elderly women after offering them a lift.
"In the morning, I was walking on a kutcha route when the gang members came in a white car and asked me about society number 22. As I live in society number 21, I guided them," said Santosh, adding that while a man was driving the vehicle, a woman, who appeared to be in her thirties, was sitting on the front left seat while another woman was sitting on the rear seat.
They offered Santosh a lift and asked her to sit on the rear seat.
The woman, who was sitting on the front seat, came and sat on the rear seat and started a "friendly conversation" with the victim. She said she had been operated upon for a gall bladder stone and wanted to sit on the rear seat as it was more comfortable.
"However, instead of going towards the society, they went on the opposite route. When I questioned them, they dropped me on the road and said I could go on my own," said the victim.
When the victim got down, she found that her gold bangles were missing. She raised the alarm following which passersby called the police.
The police checked the footage of the CCTV cameras installed at the petrol pump, but no recording was available. A case has been registered at the local police station.
Past incident
In 2012, the gang has struck thrice. In one of the incidents, the gang had robbed a 70-year-old woman of her gold bangles in a similar way by offering her a lift near Sector 17, Panchkula. Members of the gang hail from various places in Punjab.