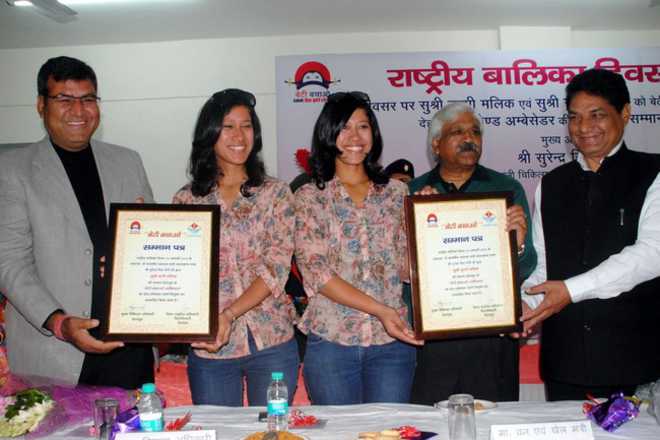 Tribune News Service
Dehradun, January 24
The twin sisters, Tashi and Nungshi Malik from Dehradun, who created history by becoming the first ever siblings to scale seven tallest peaks in seven continents and exploring the South Pole were named as the brand ambassador for the Beti Bachao (save girl child) campaign launched by Health Minister Surendar Singh Negi in a function held here today.
The Health Minister felicitated the twin sisters with a bouquet and presented a citation naming the two as brand ambassador for the campaign on the occasion.
The twin sisters also released a CD of songs, spreading message of saving girl child along with the Health Minster during the function.
Negi speaking on the occasion commended the efforts of twin sisters and breaking all records in a field that was said to be dominated by males. He said it was important to save the girl child as the gender ratio was widening in the country. He also said if given equal opportunity, women could move mountains and the twin sisters had shown it by achieving rare feat of scaling the various mountain peaks around the world. On the occasion, he also recounted various schemes being run to educate and provide health facilities to women in the state.
Cabinet Minister Dinesh Agarwal commended the efforts of two sisters and thanked them for their support to the campaign.
Tashi and Nungshi, the two mountaineers, received their early education from Guru Nanak Fifth Centenary School in Mussoorie and Dehradun, thanked the government for making them brand ambassador for such a relevant cause. The two sisters said it was the duty of parents to ensure that the girls receive equal opportunity to grow in life at home.