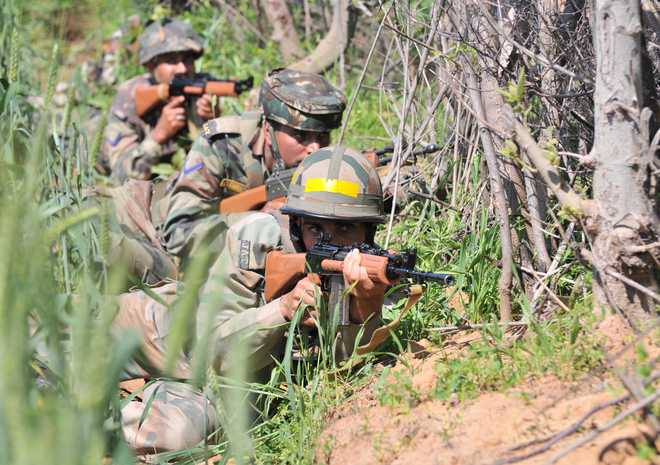 Jammu, March 20
A 'fidayeen' squad of militants in Army fatigues stormed a police station in Jammu and Kashmir's Kathua district, killing three security personnel and leaving 11 others, including a Deputy Superintendent of Police, injured in the wee hours today.
Two terrorists, who were members of a 'fidayeen' squad which had infiltrated, were also killed in the subsequent encounter with security forces that ended around noon.
This is the first major militant attack in the state since the formation of the PDP-BJP coalition government in the state on March 1.
Police officers said a group of two militants of a 'fidayeen' squad stormed Rajbagh police station in the wee hours and opened indiscriminate fire.
"It is a fidayeen attack," IGP Jammu Danish Rana said.
"Two militants have been killed. Operation has ended. Besides two CRPF men, a policeman also died in the encounter", Rana told reporters in Kathua.
Earlier, the police had said that a total of six persons, including two militants, were killed in the attack.
He said 11 persons, including a Dy SP, were injured. They have been hospitalised.
Some important documents and arms and ammunitions have been recovered, he said.
An injured CRPF constable Bharat Prabhu said militants wearing Army uniforms intercepted a jeep going from Jammu to Pathankot on the pretext of checking the vehicle.
The ultras then hijacked the jeep which had three passengers on board and fled towards Rajbagh police station, where they opened fire on a sentry and killed him. The militants fired UBGL grenades at the police station and opened indiscriminate fire.
"We had gunned down one terrorist before we were injured", the CRPF jawan said.
The police station looked like a battle ground with bullet holes on the wall. The attack triggered panic among people living close to the police station.
"As the firing started at the police station, we closed our windows and kept our family on the ground floor. We spent several hours in fear", Sham Lal, who lives close to the police station, said.
Additional troops have been rushed to the spot and the Jammu-Pathankot Highway has been closed as a precautionary measure. Entire area in and around the police station has been cordoned off.
Home Minister Rajnath Singh spoke to the DGP of Jammu and Kashmir and took stock of the situation.
Singh has directed the Home Secretary to closely monitor the situation.
In the Lok Sabha, Union Home Minister Rajnath Singh informed the House of the slaying of two militants by security forces in J&K's Kathua district. Lauding the joint operation of the J&K Police and the CRPF, the Home Minister said the entire House joins in saluting their valour.
Earlier, Congress leader Mallikaarjun Kharge questioned why the J&K Chief Minister (Mufti Mohd Sayeed ) was silent on the issue.— PTI/TNS
Top News