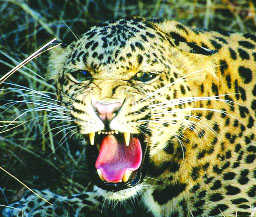 Jotirmay Thapliyal
Tribune News Service
Dehradun, May 21
Uttarakhand is all set to conduct leopard census in December. The last census in 2008 revealed the presence of 2,343 leopards in the state.
Taking into account the rise in large number of cases of man-leopard conflict in Uttarakhand in the recent years, the census is expected to reveal a substantial rise in number of leopards.
According to Principal Chief Conservator of Forests (Wildlife) AK Dutt, the state Forest Department is fully prepared to conduct leopard census and had trained its manpower for the purpose.
The Forest Department will take assistance of the Wildlife Institute of India for conducting the census. The last census was totally dependent on pug marks whereas the Forest Department is expected to use other techniques this time.
As per official data, there were 690 leopards in 1984, which went up to 1,961 in 2001. Further 2,090 leopards were counted in 2003 while the 2005 census revealed the presence of 2,100 leopards.
Pauri Garhwal district is worst-hit with the man-leopard conflict. As many as 66 leopards were revealed in the forest areas of the district in 2008. Similarly, the upper Yamuna forest division recorded the presence of 22 leopards in 2008.
According to Dr Hem Singh Gehlot, a conservationist, said causalities on both sides, humans and leopard, are a matter of concern. He said in desperation to find food, most of these leopards have turned on domestic animals and finally end up as man-eaters.
He said the total exhaustion of natural prey in the hills were forcing these animals to attack human beings and domestic cattle. Gehlot said leopard census data would help in framing of policies linked to leopard conservation as well as minimising man-leopard conflict in the state.