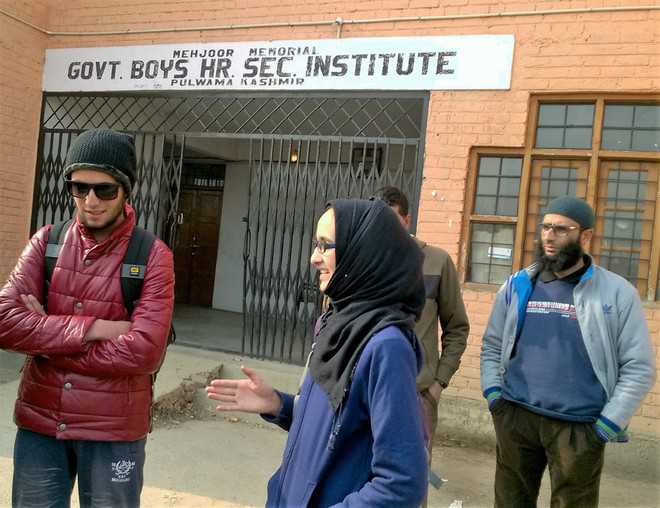 Samaan Lateef
Tribune News Service
Pulwama November 15
Aitha Hussain, 16, requested doctors to reschedule his third surgery on his left eye. He had to write his Class X exam, which he did today, enduring the pain in his eye and head.
Almost blinded in the left eye, Hussain, a Class X student in south Kashmir's Pulwama district, refused to take the assistance of a helper to write his examination. Hussain struggled to write and positioned his answer sheet to his right eye. Writing in a straight line is becoming difficult for this young boy but he is unwilling to give up. "I will write as much I can, without anyone's help," murmurs Hussain.
A lead pellet had penetrated the eyeball of Hussain's left eye and severely damaged the retina.
Most of the students in this examination centre at Government Women College, Pulwama, were conscious that he had lost eyesight from his one eye. Hussain sits composed and hardly tilts up his head. "I am fine and will finish it soon," he said.
Hussain was hit by a pellet on August 24 during protests at his Pichoo village in south Kashmir's volatile Pulwama district. He was immediately moved to the Ophthalmology Department of Shri Maharaja Hari Singh (SMHS) Hospital where he has undergone two major surgeries.
After completing his General Science examination, he said, "We have to study before and after Azadi."
Hussain is an average height boy. Dressed in a black trouser and jacket, he had come to the exam centre wearing black sunglasses and a cap to save his wounded eye from the irritating light of winter sun and dust.
Another boy, Suhaib Nazir Parray of Uzrampathri village in Pulwama, also appeared in the Class X examination at Mahjoor Memorial Government Higher Secondary Institute, Pulwama. Parray has a smeared vision in his right eye after he was hit by dozens of pellets during protests on July 29. However, doctors have assured Parray that he will regain his eyesight but he faced difficulty in writing his examination. "I can't write in a straight line. I am struggling to keep my words within the lines," Parray said.
Officials at the hospital said 25 students of Classes X and XII had approached them for certification of visual impairment to seek a helper to write their examinations.
After schools were shut for four months amid protests and separatist shutdown calendars, the government held examinations for both Class X and Class XII which were attended by over 90 per cent students.
Top Stories