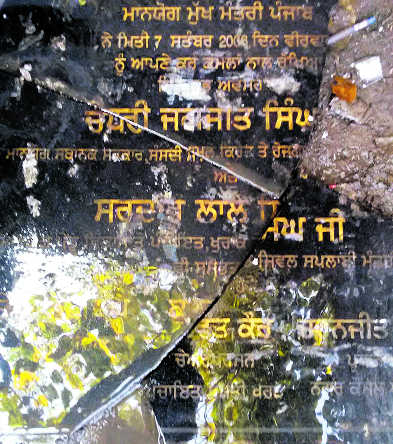 Shashi Pal Jain
Kharar March 15
Thousands of residents of Kharar and nearby villages who travel daily from Kharar Bus Stand to various places in Chandigarh, Panchkula, Punjab, Himachal and J&K have to face problems to board buses as there is no shelter and sitting facilities at the Kharar bus stand.
The foundation stone for the construction of a modern bus stand was laid on September 7, 2006, by the then Chief Minister of Punjab Captain Amarinder Singh. The project got approved due to the efforts of then MLA of Kharar, Bir Devinder Singh. According to the plan approved at that time, the present offices of the Municipal Council, Kharar, and the adjoining Panchayat Samiti, Kharar, were to be demolished and a new multi-storey bus stand was proposed to be constructed. According to the plan, the new office of the Municipal Council, Kharar, and a modern shopping complex was to be opened on the first floor. This was a joint project of the Transport Department, Municipal Council and the Punjab Government. The Transport Department was the nodal agency for this project and a sum of Rs 50 lakh was approved by the Transport Department.
In 2007, there was a change in government and SAD came into the power. Soon the bus stand was kept on the back-burner.
The Correspondent visited the spot where the foundation stone was laid. Broken pieces of the foundation stone were lying in a corner near a small water tank. When asked about it, Bir Devinder Singh said it was sad that nobody bothered about this project for so many years which would have provided a lot of relief to the residents of the area. A large number of people who travel daily from Kharar to other places face a lot of inconvenience at the bus stand blame the past and present government for ignoring Kharar.
-
Top Stories