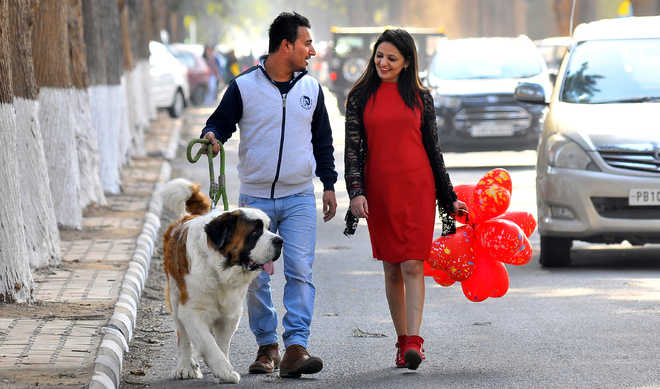 Tribune News Service
Chandigarh, February 14
The Valentine's Day celebrations witnessed a lukewarm response across the city. The geri route in the city saw youths driving around in SUVs and swanky cars. However, the enthusiasm and spark as witnessed in the past few years was missing this Valentine's Day.
The presence of police personnel in various parts of the city, including Sectors 8, 9, 10, 11, 15, 17, 34, 35 and 36, Panjab University, Sukhna Lake and Rose Garden ensured that the day passed off peacefully.
Elaborate security arrangements were in place at public parks and gardens as well. Police personnel were also stationed outside malls in the city as a preventive measure.
Being a Sunday, the Valentine's Day flavour was missing till the afternoon as the geri route from Sector 8 to 11 witnessed a lull though couples were seen visiting gardens and Sukhna Lake.
As the day progressed, the youth, especially PG residents, started venturing out. A little rush on the roads was witnessed by the evening. High-end cars and SUVs, some carrying heart-shaped balloons, were seen zooming around the geri route. The Sector 17 Plaza also witnessed a rush in the evening.
Florists also witnessed a low business. Tapas, a local florist, said the business was less as compared to last year. "A single rose was sold for Rs 50, while last year, the rates were much higher," he said.
Ramesh, another florist, claimed that being a holiday, college students did not come due to which the sale of roses was less.
Top News
The move comes ahead of Prime Minister Narendra Modi's visit...
India offers to build transport networks in Central Asia; ta...
Ashish Mishra, son of Union Minister of State for Home Ajay ...
Police say that based on a complaint, an FIR has been lodged...
Was hearing a public interest matter related to the plight o...