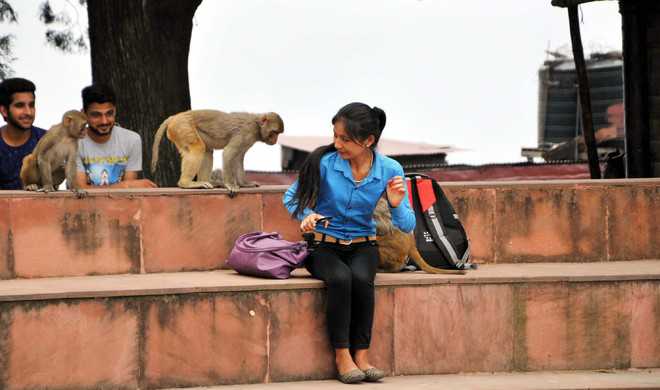 Vijay Arora
Legal Correspondent
Shimla, April 13
A petition seeking quashing of notification issued by the Union Environment and Forest Ministry declaring monkeys as vermin in the Shimla municipal area has been filed in the High Court.
The petition filed by Rajeshwar Singh Negi has challenged the notification issued by the Union Ministry on March 14 declaring monkeys as "vermin" for the next six months in the jurisdiction of the Shimla Municipal Corporation on the grounds that the same has been issued without considering the relevant material.
It was further contended in the petition that this notification violated the constitutional mandate of protecting wild animals and environment. It has been further contended that it is a well established principle that right to life guaranteed by Article 21 of the Constitution of India extends to animals as well.
The Union Ministry notification, which followed several requests from the Himachal Pradesh authorities, cited rising cases of monkeys destroying property, including crops, and biting people.
As per the notification issued by the Union Ministry "in exercise of the powers conferred by Section 62 of the Wild Life (Protection) Act, 1972, the Central government, hereby declared the Rhesus macaque (Macaca mulatta) to be vermin and to be included in Schedule V of the Act, for a period of six months from the date of issue of this notification, in the Shimla Municipal Corporation Area limits, excluding the forest areas".
Monkeys are a protected species under Schedule II of the Wildlife (Protection) Act, 1972. However, if any wild animal poses danger to human life or property (including standing crops on any land), or is so disabled or diseased as to be beyond recovery, the law allows for its killing. The petition challenging the notification is likely to come up for hearing before the court next week.