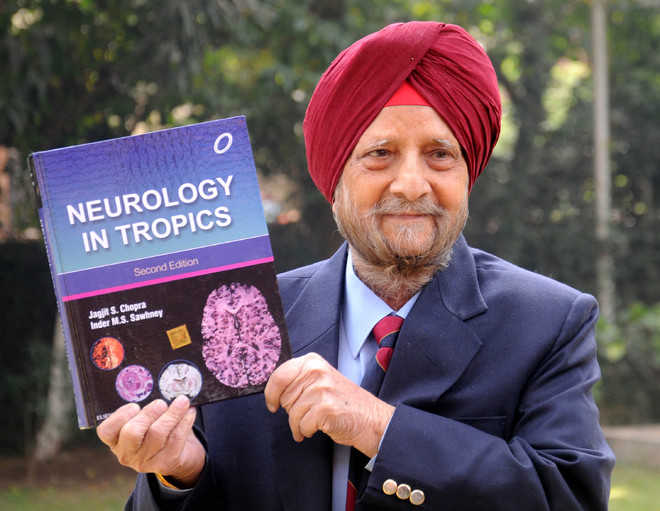 Manika Ahuja
Wearing branded clothes, eating at fancy food joints, taking your car to traverse even short distances…rings a bell? Welcome to our definition of a 'better lifestyle'. Not many of us have questioned the impact of this quest for a better life on our health. Dr Jagjit Singh Chopra, Emeritus Professor, Department of Neurology PGIMER, who recently unveiled the second edition of his book Neurology in Tropics, believes something is certainly going 'amiss' in the modern lifestyle.
The book, which also has inputs from his colleague Indermohan S Sawhney, offers guidance to keep the emergence of neurological disorders at bay. So, what inspired him to come out with this book? Chopra reveals, "One might find books on the subject penned by foreign authors. But hardly does one find any research undertaken keeping in mind the Indian perspective. In my book, out of the 146 authors who have contributed, nearly 100 are from India."
Enlisting the ill effects of our current lifestyle, Chopra informs, "You see so many children falling prey to neuro problems these days. Ten year olds are committing suicides! The parents and teachers of youngsters need to keep a tab on their dietary habits and fitness regimen. Most importantly, ample love and affection should be given to them. Thanks to the 'modern lifestyle', parents these days do not spend enough time with kids, which leads to depression among the children."
The Padma Bhushan awardee claims that rising stress levels at work place, lack of sleep, sitting for long hours, bad eating habits have all contributed to neurological issues. "Make some alterations in your lifestyle, that is all you truly need to stay in the pink of health," he remarks.
Citing obesity as one of the most glaring disease these days, Chopra says, "More than half the school-going children suffer from obesity. The reasons behind it are not hard to guess. Youngsters do not take out time to exercise and constantly battle with stress. All of this naturally impacts their cognitive development and general well-being in the long run."
According to him, degeneration diseases like Alzheimer's are also on the rise and why would they not be, "We take cars to cover even miniscule distances, we avoid walking. Our eating habits have gone haywire. We are living a sedentary lifestyle. Besides, there is a heavy dependence on gadgets like cellphones," adds Chopra.
Sounding a note of caution, he says, "One must exercise as per one's capacity and age. Walking, doing yoga and meditation are better than running and jogging."