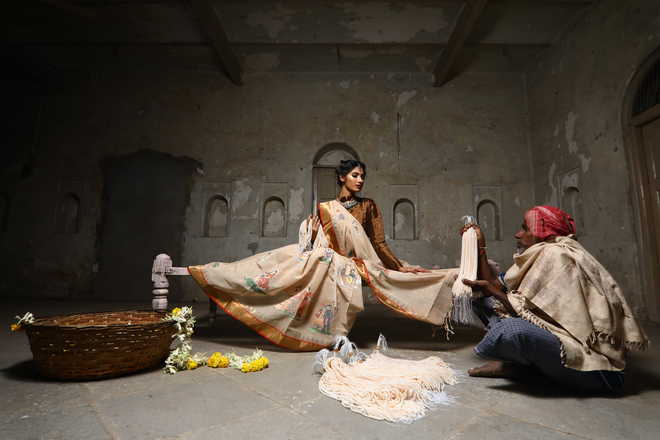 Bindu Gopal Rao
The Kalkaleshwara temple in Gajendragarh, North Karnataka, is interesting as it is not just a place of worship but a destination where local crafts once flourished. The vicinity of the temple has been the hub of handloom manufacturers and there is literature-based evidence saying that weaving in Gajendragarh dates back to 10th century.
There is also evidence of the Patteda Anchu sari being made around the same time. Today, not just Patteda Anchu, but saris like Gomi Teni, Hubli and Lakundi have all been revived through extensive research and an ethnographic study across 10 villages by textile revivalist Hemalatha Jain through her venture, Punarjeevana.
Revival rhetoric
Textile revival certainly seems the key word driving designers, textile experts and apparel enthusiasts to make a difference.
Designer Sailesh Singhania supports 60 weavers who specialise in the Kadwa and Jamdani weaving technique with motifs unique to these weavers. "We try to provide them proper working conditions and support them right through warping, spinning, dyeing and getting the looms ready for jacquard and jaala. We have been providing these craftsmen with authentic yarns and zaris and have helped them attain technical education. We have provided them 70 handlooms for them to remain employed."
Vatsala Chopra, founder of Veave's Studio, Varanasi, says they are a family of 40 weavers who work on 30 handlooms. "We are all about hand-woven and hand-embroidered textiles. We have always believed in our culture and it is still rich because of our artisans who have carried this gift for generations." Recently, Bengaluru saw the opening of a Museum of Living Textiles whose founder, Pavithra Muddaya, is working hard to ensure that weaves and patterns of the past are not lost by working with weavers to recreate them in saris and textiles.
Fabric matters
The textiles that are being revived naturally hold a lot of value and emotions. The Patteda Anchu sari has, for instance, a border inspired by jowar seeds, a crop grown in the region, which also represents a symbol of prosperity. It was mainly gifted to pregnant women and was also worn by married women during Sankranti, the harvest festival. Chopra says she wants people to feel the delicacy and intricacy of each thread that is woven into stoles and fabrics.
On a similar note, embroidery is one such craft that constitutes an important part of the country's rich cultural heritage. However, the craft is losing its lustre and skilled karigars in bigger cities are scarce. "The baton of patronage provided to hand embroidery by the nobles and aristocrats in the past needs to be handed over to the new-age designers," feels Samarjeet.
Overcoming obstacles
Revival of traditional and handloom textiles, however, is fraught with challenges. Since the weaving takes some time and is slow, the next generation is unwilling to carry it forward as the returns are low. The advent of powerlooms has sounded the death knell for traditional handloom crafts as the product can be made faster and cheaper in the machines.
"We have taken up the challenge to bring the vanquishing craftsmanship back with the versatility and contemporariness. The revival project of zardozi on pashmina has proven to be an expensive venture. It is extremely challenging as it is done manually by skilled artisans as soft fibre often breaks during the process and cannot be fixed in any other way than by hand. As a skill that is learnt and passed on within families, many people are switching on to the other jobs for better wages. Low wages are not the only threat. Synthetic, machine-made and low-quality fabrics are also available in the market at a much lower price," says Samarjeet.
Textile revival is not easy but it can be made viable by ensuring that, as buyers, we make the right choice which is the best way to support the cause.