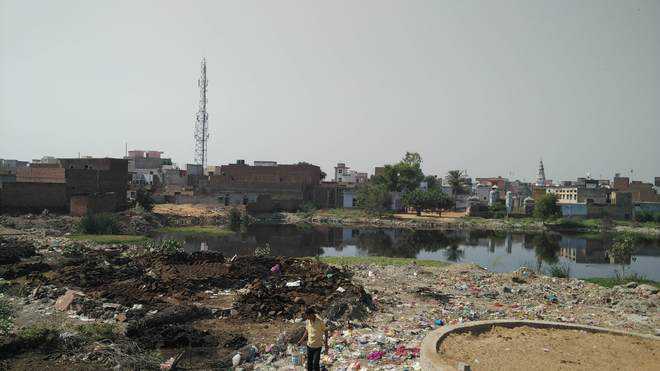 Tribune News Service
Bhiwani, November 1
Several water bodies have been encroached upon by people living nearby without the fear of law here. Moolchand pond which was spread over four acres has now been shrunk to half of its size. It has not been desilted for decades and water which once used to serve as lifeline for residents has now become a pollution zone for the residents.
Similarly, Noonsar pond at Halwas gate here which has been reduced to half of its size. The situation is no better at Bichwana pond near Kanhiya Ram Hospital as it has turned into a garbage dumping ground. Dhobi Talab near Geeta Bhawan which was spread over on nearly three acres has also been encroachment and turned into a dumping ground.
Social activist Capt Pawan Kumar Anchal said that due to gross negligence on part of the authorities, solid waste, plastic garbage, waste water and sewage of the city were being dumped in ponds.
Consequently, ponds had been reduced to tanks of sewage and other dirty material, he said. "As a result of dumping of waste in the ponds, a lot of problems and health hazards have cropped up. The pond, which was a source of potable water and place of worship, has now become a source of stinking water and public nuisance," he said.
Sources said that then DCVikas Gupta in 2009-10 had approved Rs 40 lakh to revive water bodies, but to no avail. Bir Yadav, a resident, said: "The problem lies in laxity in implementation of the existing laws and poor maintenance of the land records in the rural and urban areas which give an opportunity to encroachers to draw benefit."
He said: "Due to encroachment, Bhiwani faces the problem of waterlogging during rainy season and scarcity of water in summer season due to lack of water management." Urban Local Bodies Minister Kavita Jain said that the department had started GIS mapping of land and suitable action would be taken after legal recourse.
Top News
Congress leader has been trapped in the consequences of the ...
About 47.58 lakh government employees and 69.76 lakh pension...
LS secretariat has sent notification to EC to declare Wayana...
Prominent leaders stopped by police and detained at Vijay Ch...
Overrules a 2011 verdict by a two-judge Bench