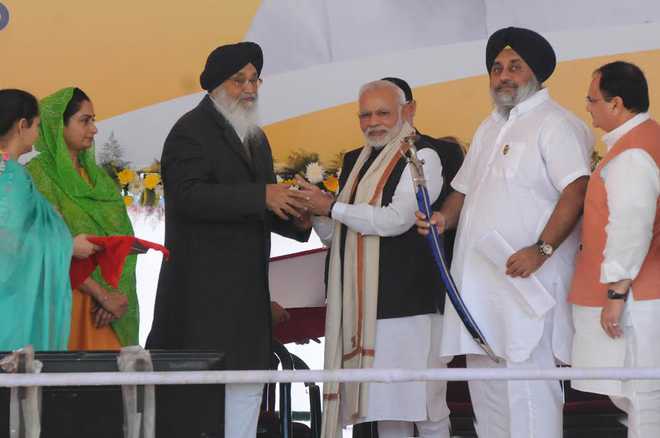 Varinder Singh
Tribune News Service
Bathinda, November 25
Raking up the river water row, Prime Minister Narendra Modi on Friday said he was determined to stop the flow of water into Pakistan and bring it for farmers of Punjab and Jammu and Kashmir.
"The water on which India has its right is flowing into Pakistan. I am committed to stopping that water and bringing it for our farmers in Punjab, Jammu and Kashmir and the rest of India," Modi told a rally near here after laying the foundation stone of an AIIMS.
Expressing his surprise that the water-sharing issue had not been taken up by previous Indian governments, Modi said: "The governments slept in Delhi in the past. Our farmers kept crying and the water kept going to Pakistan. We will fight for the rights of our farmers."
"Because of the Indus Water Treaty, the waters of the Sutlej, Beas and Ravi, over which our farmers have their right, are not available to them. The waters of these rivers are the right of India and our farmers. These waters are passing through Pakistan into the sea. Neither Pakistan uses them nor our farmers are able to use them. I am moving ahead with conviction and have set up a task force on the Indus Water Treaty," Modi said.
(Follow The Tribune on Facebook; and Twitter @thetribunechd)
The Prime Minister advised farmers of Punjab, Haryana and Uttar Pradesh not to burn paddy stubble and exhorted them to use it as farm manure to produce 'gold' out of their farms.
He 'showcased' his passion for converting India into a 'futuristic cashless economy' by asking people to convert their mobile phones into "mobile banks" and "mobile wallets".
"Download apps of your banks. The moment you do so you don't need to carry cash. There will be no fear of thieves. We are living in good times when science has worked wonders," Modi said while sharing his resolve to put an end to the scourge of black money.
"I have come to stop the looting of the lower middle class, the poor and the farmers. The Rs 1,000 and 500 bills have been banned under this. I don't know much about the poll maths," he said.
Modi, who was here to lay the foundation stone of the Rs 925 crore All India Institute of Medical Sciences (AIIMS) was accompanied by Union Health Minister JP Nadda, Chief Minister Parkash Singh Badal, Deputy Chief Minister Sukhbir Singh Badal, Union Minister Harsimrat Kaur Badal, Punjab BJP chief Vijay Sampla, Punjab ministers Sikandar Singh Malooka and Surjit Kumar Jiyani and Rajya Sabha member Balwinder Singh Bhunder.
Responding to Badal's fervent appeal to buy the paddy stubble of Punjab farmers, Modi came out with an altogether different solution. "Science has proved that paddy stubble could be the best food (manure) for our Dharti Maa. Why not provide this food to her by ploughing paddy stubble worth billions in the fields instead of burning it? Work is on to make methanol from paddy stubble. In future you will be making money from it. Farmers should resolve not to burn stubble," exhorted Modi.
Advising Pakistan to wage a war against corruption and black money, Modi said he wanted to talk to "awam" of the neighbouring country. "I want to tell them that 125 crore Indians shed tears whenever a single kid is killed in Peshawar. Pakistani awam should advise their government to fight against black money and corruption instead of fighting a proxy war against India," Modi said.
Lauding Modi's move against black money, Badal said the drive would eradicate black money from India. "By this step, Modi has helped the common man and farmers. I appeal to him to buy paddy stubble from Punjab."
Terming the AIIMS as a big gift from the Centre to Punjab, Badal accused the previous Congress governments of having ignored Punjab. "Can you show me one project in Punjab granted by the Congress? Whenever we go, the NDA government accepts our each and every demand," Badal said.
Giving a political colour to the event, Deputy Chief Minister Sukhbir Singh Badal predicted that the Aam Aadmi Party would not get even a single seat. "There will be the SAD-BJP government for the third time. CM Badal has changed the face of Punjab," said Sukhbir.
He announced that the Bathinda airport would be operational on December 11. Sukhbir said the AIIMS which would start functioning in two years would be of great help to patients of Punjab, Haryana and Rajsathan.
The Punjab BJP chief and Union Minister Vijay Sampla said the both Adampur and Bathinda airports would witness flights shortly.
Union Health Minister JP Nadda said two cancer centres were coming up at Amritsar and Fazilka; and seven new specialties are being added to Patiala and Amritsar medical colleges.
Modi at Anandpur Sahib
Later, speaking on the occasion of the 350th birth anniversary celebrations of Guru Gobind Singh at Anandpur Sahib, PM Modi said the tenth Guru had made unparalleled sacrifices of his entire family, including his father and sons.
Citing an example of the Guru's attempt for a casteless society, the Prime Minister said one of the Panj Piaras of the Guru was a Gujarati.
Modi said the birth anniversary of the tenth guru was being celebrated all over the country and special trains would be run to Patna for celebrations during the first week of January. With TNS and agencies