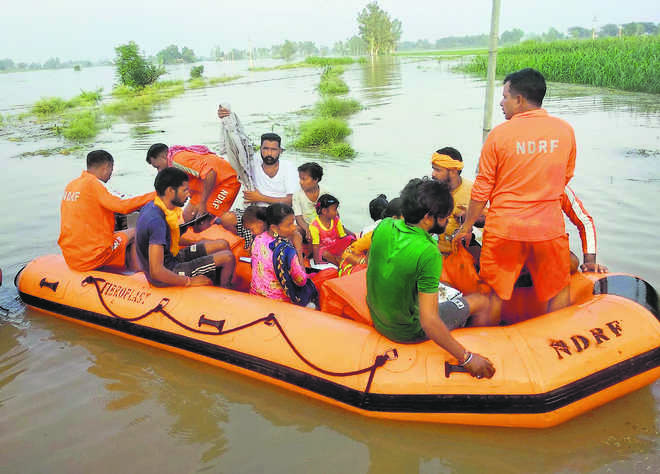 INDIA is one of the most disaster-prone countries in the world due to its geo-climatic conditions and high degree of socio-economic vulnerability. It is highly prone to floods, droughts, cyclones, earthquakes, landslides and forest fires. Twenty-five states and the Union Territory of Andaman and Nicobar Islands are susceptible to floods. Floods cause havoc every year in spite of adequate efforts, interventions and funds spent on their prevention and control. About 40 million hectares of the country's geographical area is flood-prone. According to World Bank, floods in India account for one-fifth of the global deaths annually. Data compiled by the Central Water Commission (CWC) indicates that floods cause damage worth about 3 per cent of the country's current GDP.
The India Meteorological Department (IMD) has evolved technologically and can accurately predict the possibility and intensity of rainfall. The CWC has 325 flood forecast centres for monitoring the flow in flood-prone rivers and their tributaries. In addition, inflow forecasts of the CWC at 128 reservoirs help the dam authorities in ensuring appropriate discharge of water to avoid floods downstream.
Despite such a forecasting system in place, more than 500 people have died, lakhs have been displaced and large tracts of agricultural land inundated due to catastrophic floods this year. Initially, Bihar, eastern Uttar Pradesh and the North-East were affected, followed by Maharashtra, Gujarat, Karnataka, Kerala and Andhra Pradesh — the reverse of what used to happen every year. Scientists attribute this anomaly to the impact of climate change. Punjab and Haryana, which claimed to have made rapid strides in flood control, were also hit hard recently.
Flawed strategies, policies
Causative factors of floods have multiplied over time due to wrong strategies and defective developmental policies. Catchments of river basins have been allowed to be degraded due to indiscriminate felling of trees, flawed land use management and unplanned development, resulting in the flow of water at full throttle after heavy rain. The scientific cut-and-fill method is not followed during the construction of roads and other developmental activities in hilly and semi-hilly areas. Muck and debris so generated consequently get scattered on the slopes, causing landslides after heavy rain, followed by floods. Leakage and breakdown of embankments erected for protection from the overflow of water from rivers and canals have been causing floods. Unplanned reservoir regulation leads to floods, as was witnessed in Kerala, Maharashtra, Gujarat and Punjab this year. Mining has been allowed on land not fit for it and at places is being carried out illegally, resulting in accumulation of water and causing landslides and floods. Settlements have come up at or below the flood plain of rivers that get flooded when the water level rises. Drainage systems in urban areas are not being properly maintained; these get choked after heavy rain, resulting in a hindrance to the smooth flow of water. Encroachments on overground drainage lanes and non-disposal of plastic lead to blockage, resulting in the accumulation of flood water. Overpopulation per unit area in urban areas complicates effective flood management. Climate change triggered by anthropogenic events is impacting glacial reserves, water balance, coastal and hill ecology, leading to increased water flows that trigger floods.
Floods cause misery to the affected people, derail the economy and affect growth, necessitating appropriate and intensive management. Disaster management of floods encompasses not letting excess runoff water to flow suddenly and intensively into the system to cause damage and destruction. In spite of a scientific National Policy on Disaster Management, 2009, supported by the Disaster Management Act, 2005, the management of floods has not improved. This policy prescribes a paradigm shift from the erstwhile response and relief-centric approach after floods to pre-disaster proactive prevention, early warning, mitigation, risk reduction and preparedness-driven approach. If such a pre-disaster phase fails, there is a provision for post-disaster steps of an effective and prompt response in rescuing and evacuating the affected, followed by giving the required relief. In the worst situation, people are rehabilitated and where needed, affected infrastructure is reconstructed.
In many states, due care has not been taken in undertaking preventive, mitigating and risk reduction measures necessitating response operations to rescue the affected people. Relief, rehabilitation and reconstruction measures undertaken thereafter demand much more funds. The Rapid Needs Assessment of the 2018 Kerala floods, carried out by the United Nations Development Programme (UNDP) in collaboration with World Bank and Asian Development Bank, shows that a sum of Rs 31,000 crore is required for reconstruction and rehabilitation. Such high figures would emerge when the situation in other states is similarly analysed.
Modern IT and satellite-based Early Warning Dissemination System, integrated for flood management with the flood forecast system of the CWC, rain forecast system of the IMD and data of other similar organisations, managed through national, state and district Emergency Operation Centres, has to be developed and made operational. Such a system has already been made operational for cyclone management and associated floods in Odisha and Andhra Pradesh under the National Cyclone Risk Mitigation Project. The system needs to be linked with radio, mobile, satellite, electronic and wireless-based instrumentation, each backing the other to be continuously in communication with individuals, organisations and the authorities responsible for ensuring flood management, including with people at the last mile through their mobile phones. Early warning would be a success if it moves much faster than floods, is relevant and accurate so as to give adequate time for ensuring effective flood management. Such a system, when operational, would help in preventing the loss of lives and improving the overall flood management strategy, including response operations.
Developing resilience
A strategy that takes appropriate preventive steps by mainstreaming flood disaster mitigation and risk reduction measures in developmental planning can bring disaster resilience from floods. This includes having an operational early warning dissemination system connected up to the last mile, a well-managed catchment area with high density of forests and a well-maintained land use system allowing water to flow slowly and naturally into the system. Damming of flood-prone rivers for the transfer of excess water to deficit basins has to be undertaken as dams have the capacity of holding huge volumes of water during floods to reduce flood peaks. However, reservoir regulation has to be modelled and made realistic, based on scientific data and intervention. The newly enacted Dam Safety Act has to be adopted and implemented. In urban areas, duly clean and fully maintained drainage system having enough capacity to take drainage water during heavy rain with ease has to be accomplished.
The development of cities, towns and villages has to be kept away and above the flood plain level of rivers. In vulnerable areas, floods caused by the overflow of water from rivers have to be assessed, based on the highest flood level in the past 100 years to formulate and undertake mitigation measures to prevent flood water from reaching villages, towns and cities and damaging houses, other infrastructure and crops. Embankments in this respect have already been erected in Assam, Bihar, UP, Punjab and some other states. But these are required to be erected away from the natural drainage system of rivers to allow increased natural flow of water without any hindrance. Foolproof maintenance of embankments raised for protection from rivers and canals has to be ensured. Seismic and water-resistant cemented houses need to be raised in flood-prone areas. Multi-purpose disaster centres to house the vulnerable have to be constructed, starting with highly flood-prone areas, with a design so that these could be used for other essential purposes during normal times.
Floods in Bihar and Assam can be prevented by having trans-boundary issues resolved with Nepal and China, respectively, allowing the construction of dams in collaboration or otherwise with these countries. If accomplished, this would also result in improving the economy through utilisation of water so dammed for irrigation, power generation and recreational tourism. Such a strategy contemplated long ago has not yet materialised, causing havoc every year. It needs to be vigorously followed through diplomatic channels for early culmination. Climate change mitigation requires appropriate adaptations to be undertaken and monitored till implementation for reducing flood risks. Capacity-building of flood managers and communities in flood-prone areas is of utmost importance; it would help in mitigating and managing the problem to a great extent. In coastal Odisha, communities and community-based organisations tackle floods and cyclones without any assistance. This approach of empowerment of communities in disaster management has to be taken to other parts of the country.
A prompt and effective automatic response system has to be in place to rescue the affected in the case of fierce floods. The National Disaster Response Force and the State Disaster Response Forces, fully empowered and equipped, can be requisitioned. Armed forces are and have always been in readiness to assist as the last resort. The rescue and response operations of these forces have been graded as one of the best in the world. Relief to help people rebuild their lives through insurance claims and the National and State Disaster Response Fund has to be immediately disbursed. Linking disbursement of relief to bank accounts of people through Aadhaar will bring transparency and efficiency. In the worst case, a plan and a strategy should be in place for the rehabilitation of the affected people; where required, reconstruction should be carried out in a time-bound manner.
The way forward
In view of the catastrophic damage caused by floods, an integrated and targeted programme of flood management through multi-sector partnership of various organisations has to be put in place. The CWC and the IMD are only flood and rain forecast authorities, respectively, requiring coordinated action on flood management and control that could be ensured through the Union Ministry of Home Affairs or the National Disaster Management Authority, nodal organisations concerned with disaster management in the country. Immediate operationalisation of IT and satellite-based early warning dissemination system for floods at the national level, linked with the basin, state and district-level ones, is much needed to give 24x7 flood forecast to all stakeholders. Flow of water in drains in urban areas has to be modelled on the Web, wherein its movement can be viewed on computer screens to intervene, where required, to correct the position. The listed risk reduction and mitigation measures as per the needs assessment — district, basin, state and region-wise — are to be immediately accomplished, starting with highly flood-prone states/areas. The establishment of River Basin Organisations has been initiated; it is bound to bring dividends in strategic flood management. Such operational systems can minimise the loss of lives and improve flood management to bring resilience from disastrous floods. It would also help India achieve commitments made for the implementation of the Sendai Framework (2015-30) under the aegis of the United Nations Office of Disaster Risk Reduction.
Floods: Guidelines for the public
Before
Ignore rumours, stay calm, don't panic.
Keep your mobile phones charged for emergency communication; use SMS.
Listen to radio, watch TV, read newspapers for weather updates.
Keep cattle/other animals untied to ensure their safety.
Prepare an emergency kit with essential items for safety and survival
Keep your documents and valuables in waterproof bags.
During
Don't enter flood waters. In case you must, wear suitable footwear.
Stay away from sewerage lines, gutters, drains, culverts etc.
Stay away from electric poles and fallen power lines to avoid electrocution.
Eat freshly cooked or dry food. Keep your food covered.
Drink boiled/chlorinated water.
Use disinfectants to keep your surroundings clean.
After
Do not allow children to play in or near flood waters.
Don't use any damaged electrical goods; get these checked.
Watch out for broken electric poles and wires, sharp objects and debris.
Do not eat food that has been in flood waters.
Use mosquito nets to prevent malaria.
Don't use the toilet or tap water if the water lines/sewage pipes are damaged. Source: ndma.gov.in
UN initiative
The United Nations Office of Disaster Risk Reduction (UNDRR), created in 1999, was established to ensure the implementation of the international strategy for disaster reduction. It is part of the United Nations Secretariat and its functions span social, economic, environmental and humanitarian fields.
UNDRR supports the implementation, follow-up and review of the Sendai Framework for Disaster Risk Reduction adopted by the Third UN World Conference on Disaster Risk Reduction on March 18, 2015, in Sendai, Japan.
UNDRR's vision is anchored in the four priorities for action set out in the Sendai Framework
1. Understanding disaster risk in all its dimensions.
2. Strengthening disaster risk governance at national, regional and global levels.
3. Investing (public & private) in disaster risk reduction for resilience.
4. Enhancing disaster preparedness for effective response and to 'build back better' in recovery, rehabilitation and reconstruction. Source: www.unisdr.org
The author is former Project Director, National Disaster Management Authority
Please email your feedback at infocus@tribunemail.com