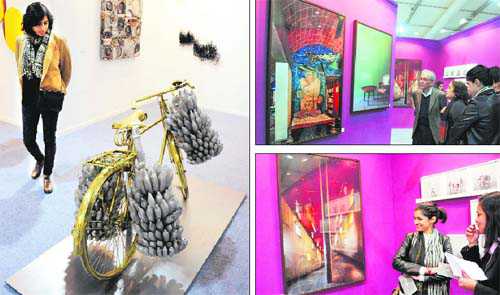 Easier to navigate and more aesthetically presented, India Art Fair 2016 at NSIC exhibition grounds New Delhi is not without its déjà vu moments: same stars of the contemporary art world, familiar faces among art lovers. But what sets this apart is art itself. Move over bizarre... it's back to aesthetics finding its legitimate space. Some blue chip galleries from West many not have returned, but there is no quarrel with the quality. Among the bevy of celebrated signatures, art works put up by 70 galleries jostle for attention. Expectedly few stand out, few lurk within and few have to be truly caught by a discerning eye.
Subodh Gupta, one of India's most significant conceptual artists, makes his presence felt at gallery Nature Morte. Here he revisits one of his earlier muses bicycle replete with bananas all cast in metal and a showstopper at the fair. His newest work made of crushed utensils is as aesthetically pleasing as his signature utensil sculptures that have earned him name and fame. But the one that truly catches attention is Cobblers Head at the international gallery Continua that represents him too. Made of found objects which a cobbler on the road side employs to polish your shoes it's really a classic case of an artist's imagination finding a fresh impetus in the familiar. If Gupta's installation is fired by his roots, Italian artist Michelangelo Pistoletto takes elements of the country he visits and recasts the image of infinity.
Nepal's art and heart
Home to some of the best of Indian art for years now, the fair has been showcasing international artists too. This year the focus is on South Asia. And officials of Nepal Art Council a public private partnership can't stop gushing over their debut at the fair. Curated by Dina Bangdel, the show brings together works of seven artists with varying sensibilities and completes the missing piece of the art scene of the region. From overtly political to simply aesthetic to response to their socio-cultural milieu, it's a melange of expressions. After the devastating earthquake of 2015 many artists like Asha Dangol and Sheelasha Rajbhandari have found their trigger in the nature's havoc.
Jinne Lahore nahi wekheya…
Pakistani artists have been the toast of art lovers and collectors in India for a while. This year in the platform series that showcases artists from the region, Lahore's Taseer Art Gallery acquired the centre stage. Technology and art come together in Farida Batool's lenticular images. Her 550 pairs of eyes and images shift in her description of the sad city of Lahore you can't take your eyes off. The works were conceived in Pakistan but printed in India.
Chandigarh link
City Beautiful is represented not just by the alumni of its Government College of Art such as Jiten Thukral, Ranbir Kaleka and Vibha Galhotra but also though the eyes of Italian photographer Antonio Martinell. Besides an amazing inside view of the Chandigarh Secretariat, he has captured Corbusier's furniture and his mural, one at Mill owner's association Ahmedabad and another at Sarabhai house again at Ahmedabad.
Art is money
Literally, as US-based artist Alberto Echegaray Guevara actually uses two dollar notes now disbanded in the US to create a work and then there is his money ball. Made out of shredded one million dollar currency, using Morano glass and gold plated platform, it not only questions the actual worth of currency notes being printed far in excess of their value but also wonders aloud--- isn't money just an illusion?
Masters are masters
Delhi Art Gallery's massive exhibits prove that time can never dent the artistic merit of modernists. It has virtually converted its space into a gallery replete with informative bites by way of visual recordings. With larger-than-life works of artists such as Ved Nayar, it prided itself on creating a first of sorts. Two masters' works debut at its space and one of them is our very own Punjabi artist Amrita Sher-Gil whose work Dressing the Bride features here along with a host of her photographs.
Top News
The minister's comments come against the backdrop of the US ...
Describing the allegations levelled by Justin Trudeau agains...
Raids 51 places in Punjab, Haryana, Rajasthan, UP, Delhi
The seized substances are three packets of narcotics, wrappe...
Ashwani Kumar's work on potential reduction in TB treatment ...