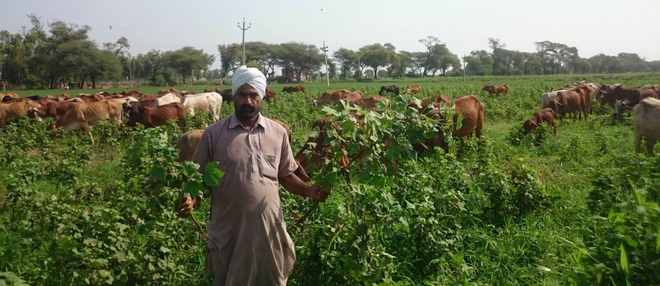 Sarbjit Dhaliwal
Tribune News Service
Chandigarh, August 27
Kaka Singh, a cotton grower at Thuthianwali village, near Mansa, is a shattered man. The reason: Damage to his cotton crop.
He had sown cotton in about 8.5 acres. However, the attack of whitefly has completely ruined his crop.
"I had sprayed my crop five times spending about Rs 30,000. But there is no relief from the attack of the whitefly. The entire crop has turned black. Plants, by and large, have dried up. There is hardly any fruiting on the plants," he said in a sinking voice over the phone.
Kaka Singh is not alone. There are thousands of farmers like him in the cotton belt.
In Bhaini Bagha village nearby, farmers Kala Singh, Deepa Singh and Leela Singh have uprooted a part of their cotton crop because of the devastation wrought by the whitefly attack.
BKU (Ugrahan group) leader Ram Singh Bhaini Bagha said there was a report that a farmer near Talwandi Sabo had consumed pesticide and ended his life yesterday when he saw the widespread damage to his cotton crop.
The damage to the cotton crop is a third consecutive shock suffered by farmers, especially in the Malwa belt, in the past 1.5 years.
Earlier, the wheat crop was damaged in February and March, leading to a considerable fall in the yield. "Earlier, the yield used to be in the range of 20-22 quintals per acre. In April this year, it was just 15-17 quintals per acre," said Kaka Singh.
Before wheat, the farmers had to spend huge amounts of money on nursing the paddy crop because of a drought-like situation in the state.
Asked about the third consecutive shock suffered by farmers, Agriculture Commissioner Balwinder Singh Sidhu said, "It is an unfortunate situation. Obviously, the damage to the cotton crop will aggravate the crisis in the farm sector and hurt the farmers badly."
Ram Singh said the state government must come to the rescue of farmers who were in deep crisis due to these repeated shocks. During the paddy and wheat losses, the state government did nothing for farmers, he alleged.
"It did not provide any compensation to farmers, but now, it must do something for them," he said.
The consequences of the damage to the wheat crop are there for all to see. Almost daily, there are reports of one or two farmer suicides from Malwa's Sangrur-Mansa-Bathinda belt. In the Malwa region, there are mostly small and marginal farmers.
Top News
Shashi Tharoor will file his papers today and May later with...
With the latest hike, the repo rate or the short-term lendin...
He will also take a ride on the train from Gandhinagar to Ka...