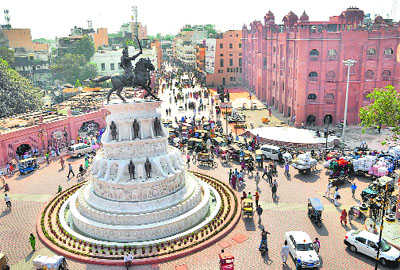 A. Shankar
Amritsar, famous for the Golden Temple, is a major spiritual and cultural centre in India which attracts more visitors than Taj Mahal. On any given day, nearly 1 lakh religious tourists visit the city. Amritsar is the second-largest city of Punjab after Ludhiana, and the most ancient and historic city for Sikhs in Punjab. It is also the most popular destination for non-resident Indians (NRI) in India.
The city enjoys a strategic location with good connectivity to prime cities of India and Pakistan, as it is only 28 km from the border of Pakistan. Along with excellent connectively through road and rail transport, the city houses an international airport with a capacity of 150 commercial flights per week, both domestic and international. For the population of 1.21 million (2016) in Amritsar, a 31 km-long BRT corridor is nearing completion stage to ease traffic congestion and improve public transportation in the city.
The urban population comprises 34.08 per cent in the district, with 80 per cent of this population based in Amritsar City. Amritsar has a radial and ribbon-style growth pattern, emanating from the city core and expanding towards the northern and the eastern directions.
The city's economic fabric is diverse, with manufacturing and the service sector forming the backbone and about 93 per cent of the workforce engaged in secondary and tertiary services. Historically, the city has been part of international trade routes like the ancient Silk Route from China to Europe. With improvements in the bilateral ties with Pakistan, Amritsar is likely to re-emerge as a 'Gateway to West' and prominent trade hub of Northern India.
There are approximately 25,000 industrial units in the Amritsar district, with the major commodities of production and export being woolen blankets, embroidered clothes, printed textiles, shawls, carpets, local cuisine perishables, etc. It is also among the 20 focal point industrial estates identified by the state government. Amritsar is the largest grain and commodity trade market of Punjab, supported by strong educational and healthcare facilities which provide ample opportunities for growth of the city.
The city is strongly visualised to captivate upcoming investments into the real estate sector in the near future due to following attributes:
Emphasis on heritage and spiritual tourism:
Increased connectivity
Industrial developments to boost economy
Top-ranked city in Round # 2 of Smart City Challenge
Improving education and healthcare facilities
Transformation evident in commercial and retail
In Amritsar, the commercial sector is largely in the form of high street retail markets, some organised malls and industrial houses. The city's commercial market was not significantly office space-driven, and the demand for real estate has by and large been for residential, agricultural and industrial property in past years. Keeping in trend with the organised retail mall culture, Amritsar also has a few specialty malls.
This trend has created business opportunities for developers for developing commercial spaces, and has also opened the doors for investments into the retail sector by various retailers. Moreover, as Punjab is inviting the service industry besides its two main occupations of business and agriculture, the demand for residential and commercial properties is also growing in the city. Sensing this, realtors are making a beeline for the city as it gets ready to embrace faster economic and real estate growth.
Office space demand for organised Grade A and B spaces on the outskirts of the city's core market area has been sluggish; a majority of the occupiers prefer to position themselves in Amritsar's established markets as these provide them better access to their clientele.
However, the current outlook has changed drastically by shifting towards uptake of commercial spaces in select micro markets.
Prime locations for commercial space in Amritsar are: Ranjit Avenue, Mall Road and Lawrence Road, which are characterised by high absorption and limited supply.
Prevailing average rental values in prime retail-cum -commercial areas such as Mall Road, Ranjeet Avenue and Lawrence Road vary between Rs 40- 120 per sq. ft. per month depending on the grade of building, floor and specifications among others.
These locations typically house buildings which have retail on lower floors with top floors occupied primarily by BFSI sector. With the increase in demand from BFSI sector and retailers, many big developers are planning to develop retail cum commercial office spaces in the city.
The road ahead
Due to comparatively cheaper realty prices and many proposed infrastructural improvements, Amritsar is expected to become a hub of residential, commercial and retail activity in the region going forward.
Realty experts are upbeat about the growing interest from investors in Amritsar, which has not only augmented its economic growth but also positioned it prominently among the fastest-growing tier-III cities in India.
Amritsar is now well on the way of transcending its image as a 'holy city' and transforming into a prime real estate investment destination.
— The writer is National Director & Head of Operations - Strategic Consulting, JLL India