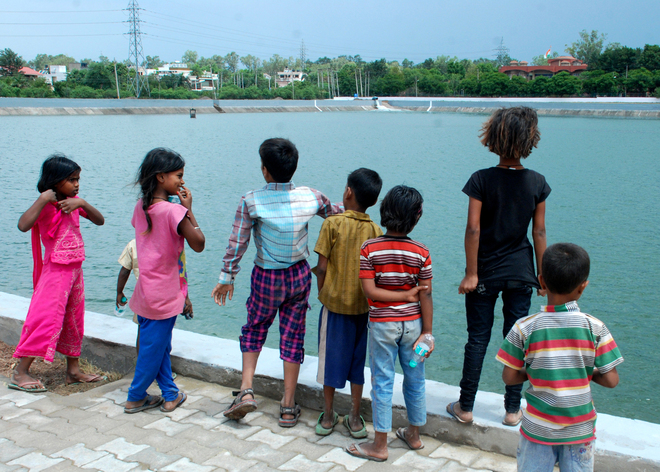 Hina Rohtaki
Tribune News Service
Panchkula, June 2
With the township getting its share of water from the Kajauli waterworks after 32 years today, residents are wondering whether water woes would end with the 6 MGD share or not.
Sources said water from the Kajauli waterworks would provide a little relief as Kaushalya Dam didn't provide water on the expected lines. The project of tertiary water is in the pipeline for the past several years. As a result, fresh water goes to parks. There are over 200 small and big parks where the fresh water goes.
Officials said the project would take off in the next two months. The Superintending Engineer of the Public Health Wing of the Haryana Urban Development Authority (HUDA) said about 4.5 MGD water is taken by parks and the tertiary water project would bring this water also to the residents.
"We don't know whether the Kajauli water will actually help us or not. We only know that we are facing a lot of problem, especially on the first and second floors," said Raj Krishan, a resident of Sector 12, here.
Kaushalya Dam was to provide 18 cusecs of water, but it is providing only 6 cusecs. A vigilance enquiry is going on as the dam was allegedly said to be defective.
Politicians make the most of the occasion
Local politicians made the most of the occasion. BJP leaders took the credit for the release of the water and also got a plaque fixed on the water treatment plant itself with the names of Haryana Chief Minister Manohar Lal Khattar, MLA Gian Chand Gupta and MP Ratan Lal Kataria.
Top News
Rana Gurmit Singh Sodhi, Manoranjan Kalia and Amanjot Kaur R...
Can meet at Hyderabad residence on Dec 6, says Kavitha
CM Bhupesh Baghel had earlier accusing the probe agency of c...
Secretary of State Antony Blinken emphasises that Biden Admi...
Gurpatwant Pannu, head of the banned terror outfit Sikhs For...