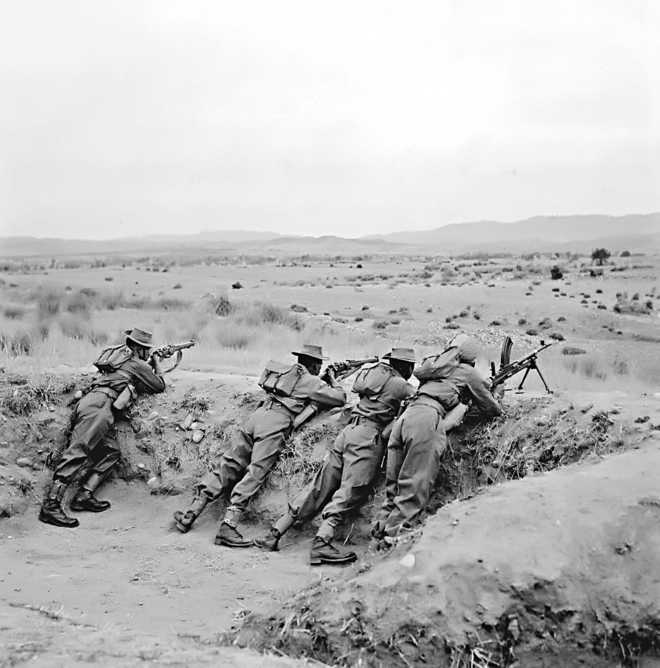 Maj Malkiat Singh (retd)
The actual Chhamb-Jaurian War of 1965 with Pakistan was on August 7/8 when the enemy occupied Kalidhar mount and captured Nathan and Mehra posts. A company with additional gun groups under the command of Major Virk was sent to capture the Kalidhar Ridge, but it was re-captured by the enemy within a few hours as they had more troops. The company suffered some causalities. On August 17, Nathan and Mehra posts were captured by us under commanding officer Lt-Col P. K. Nanda Gopal and handed over to another unit.
I was posted in the unit in July 1965, which was deployed in the Chhamb sector, where Pakistan had already initiated trouble since April 1965. There were rumours that Field Marshal Ayali Khan had obtained Indian war plans from an Indian Brigadier through treachery. Pakistan was also under impression that after India's defeat on the Himalayan ranges and death of Jawaharlal Nehru, it was vulnerable and so was its leadership. Zulfiqar Ali Bhutto thought that it was the best time to launch Operation Grand Slam to occupy Chhamb-Jaurian and to capture Akhnoor to cut off Kashmir from the rest of the India.
According to intelligence sources, a Pakistan armoured division was preparing to attack Chhamb. I was given the task to go to forward posts in the evening to recce and ambush the places where enemy patrols likely to come. In the evening there was always heavy cross firing of small arms.
On August 14, we fired at the enemy posts. In reply, on August 15, they shelled heavily till late night at our location as well as at the Dewa area. At Dewa, Brigade Commander, Behram Master and G-3 of the Brigade were killed. Our unit also suffered some causalities. Next day, battalion headquarters, along with a company, shifted us further near the bank of Tawi River.
After four-five days, a Pakistan armoured division attacked our forward posts. After capturing these posts they came near Sakrana village via Dewa. They were hardly 500 yards from our location. Our patrolling party captured an enemy jeep and killed the officer who was driving.
Once day a Pakistan surveillance plane came above our location. We fired upon it but it was not hit. This plane may have given some information of our location to the enemy.
Another time, the enemy lined up six tanks to attack our location. Our RCL Gun fired at the tank which was not hit. Within a few minutes, enemy fired at RCL Gun which was damaged. We had one tank which was behind a house surrounded by bajra crop and was not visible to enemy. I approached Maj Bhaskar Roy, in charge of the tank, to try our luck. We provided him ammunition. He fired four shells and three tanks were hit. The remaining withdrew immediately.
Our higher authorities were not aware of our situation and even our fighter planes bombarded at our location. There was no supply of any rations, we consumed tinned ration for two days.
There was a delay due to our unready state, same thing happened during the 1971 War while I was posted at Fazilka. Finally we got withdrawl orders on the night of August 31. Had some tanks and support been given to our unit there was no question that enemy could have crossed Tawi. On September 1, after our withdrawl, Pakistan troops crossed the Tawi and advanced towards Akhnoor, supported by their fighter planes causing some damages with bombardment. The Pakistani forces was halted at Pallanwala with support from other units which had joined just two days before.
Within a few days, 10 Division was raised at Akhnoor and more troops reached there. After a few days, our brigade moved to Sunderbani, where the enemy, after capturing Kalidhar mount and adjoing ridges, was preparing to capture Sunderbani to block troop movement to Rajouri, Poonch and other areas.
Our unit was given the task to capture Kalidhar. After a severe battle, Kalidhar was captured finally. There was a hand-to-hand combat with Pakistani troops. There seemed a shortage of ammunition with Pakistani troops. Most of the shells fired by Pakistani guns were outdated and did not burst. India had frustrated all Pakistani efforts to capture Akhnoor and Sunderbani to cut off Kashmir from the rest of India.
— The writer was posted in the Chhamb-Jaurian sector
---
Read more in '50 Years of 1965 War' special: