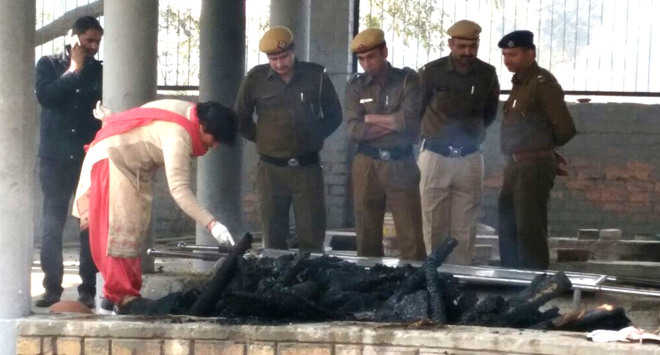 Sunit Dhawan
Tribune News Service
Rohtak, January 5
A suspected case of killing a newly married woman for "honour" has been reported in the district yet again. Acting swiftly on a complaint lodged by the woman's husband, a police team recovered the victim's half-burnt body from the pyre and arrested her parents.
The matter came to light when Pradeep of Harisingh Colony in the town, who had married his neighbour Seema recently, informed the police today that his wife had been killed by her parents.
Seema's family members were cremating her when the police reached the cremation ground. Seema's half-burnt body was recovered from the pyre and sent for the post-mortem examination.
"We have registered a case under Sections 302, 201 and 34 of the IPC. Seema's father Khushi Ram and mother Angrejo Devi have been arrested and a hunt is on to nab her brother," said DSP Pushpa Khatri.
Seema and Pradeep had married against the wishes of their parents in a court on December 21, 2016. It was an inter-caste marriage.
After the marriage, Pradeep's family members reportedly accepted Seema as their daughter-in-law. Following that, the couple returned to Pradeep's home. Pradeep said his mother also tried to convince Seema's parents to accept the marriage.
"Subsequently, Seema's parents also agreed to accept our marriage. Then, they asked me to send her and we sent her to her parents' home. This morning, I was told that Seema had died and was being taken for cremation. I immediately informed the police," said Pradeep.
As per the police, the cause of the death is yet to be ascertained, though prima facie, it seems to be a case of strangulation.
Police sources maintained that the woman's mother had changed her statement, which raised suspicion. First, she reportedly said that Seema had a heart attack, but later maintained that she had hanged herself. An intensive probe had been launched to get to the bottom of the matter, they asserted.