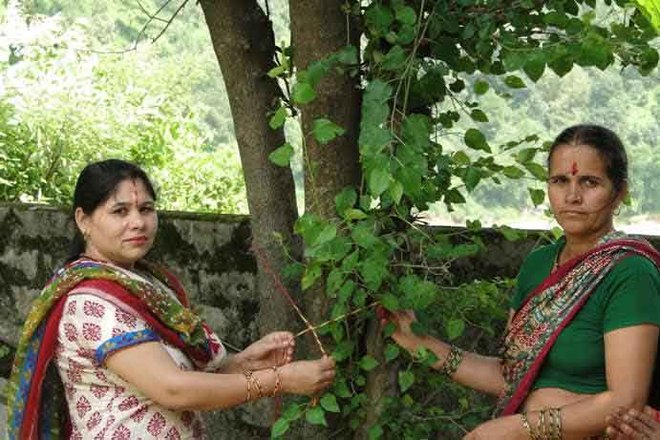 Tribune News Service
Dehradun, August 28
A day ahead of the festival of Rakhi, people of Uttarkashi district in Uttarakhand are continuing with the tradition of tying rakhi around the trunk of trees, thus reaffirming their pledge to continue with tree conservation.
Started in 1994, the Raksha Sutra Andolan today has become a movement to save trees in Uttarakashi. A large number of women tied the scared thread around several trees today as part of their resolution to carry forward the Raksha Sutra Andolan.
Raksha Sutra Andolan's founder and social activist Suresh Bhai said the moment that started from Tehri in Uttarkashi region had spread all across the Garhwal hills.
Referring to the history of the andolan, he said it came at a time when felling of trees became rampant at an altitude of 1,000 metres, severely affecting the green cover in the hills.
"Chaurangikhal, Harsil, Haruntha, Adala and Mukhem areas on the Uttarkashi-Tehri stretch of Garhwal hills were the worst affected. It was then that women started tying threads around the trunks of various trees and pledged to protect them," he added.