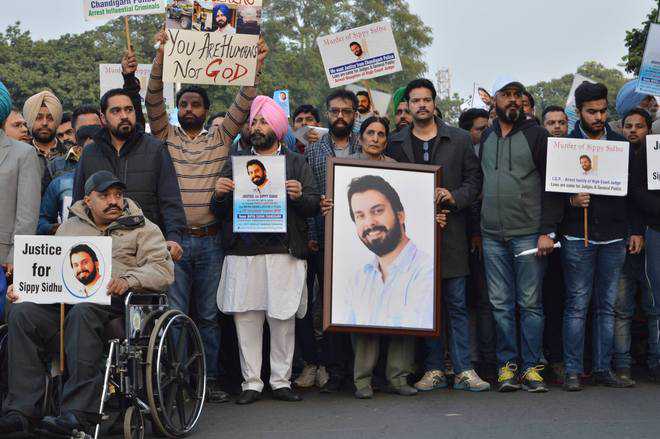 Smridhi Chawla
When actor Ranbir Kapoor showed his middle finger in 2011 movie Rockstar's Sadda Haq, Aithe Rakh song, he inspired a few. Well, Middle Finger Protest or Human Rights Protection Group, a Chandigarh-based NGO, has been doing it for the haq of the masses since 2006.
The organisation came into being when the accused in the Jessica Lal murder case were acquitted in 2006. It was the first one to hold a candlelight march from the accused, Manu Sharma's hometown — Chandigarh. Since then, the organisation has been working for the welfare of society. Prabhloch Singh, spearheading the organisation, is a deejay, a corporate employee and a social activist. He shares notes from his journey so far.
Why middle finger?
We were a group of college students who initiated a T-shirt campaign to protest the court orders in Jessica Lal murder case. We used to tell people to condemn the accused, Manu Sharma's family business establishments, wearing T-shirts which had 'Let the truth come out' printed on them. I also received a life threat! Our reply to them next day was middle fingers up in the air; hence, the name.
First kick
The T-shirt campaign grew into first-of-its-kind mass candlelight protest from Chandigarh. Back then, platforms such as Facebook, WhatsApp were non-existent, so our awareness efforts were completely SMS-dependent. Eventually, the judiciary had to give in and the case was reopened. When our efforts bore fruit, we decided to enter the world of activism. The group was also featured in 'No one killed Jessica' movie.
Let's talk money
The NGO does not endorse taking any kind of donations or government grants. Prabhloch gives an insight into this ideology: "The idea is to create the spirit of activism among youth. You don't have to be a 'jhola' activist, clad in 'khadi' – a stereotypical notion about a social worker in India – and dependent on funds from the society. Only help we accept is people volunteering for us."
Current lead
Sippy Sidhu, a national-level shooter, was shot dead in Chandigarh in 2015. The NGO had been helping Sippy Sidhu's family seek justice. It held a blindfold protest march in Chandigarh against police inaction and later protested outside Prime Minister Narendra Modi's residence.
"Sidhu's family was making efforts to get a CBI probe initiated into the case. Along with a SAD MP, I met Home Minister Rajnath Singh in this regard. The organisation's and the family's efforts fructified and the CBI has now been involved in the case."
International accolades
Apart from its various activities for seeking justice and creating public awareness in several other cases, such as Arushi murder case, Nirbhaya rape case, et al, the organisation has been awarded at several international platforms.
"I addressed the 13th Annual International Human Rights Summit 2016 at the United Nations headquarters, where I discussed issues such as atrocities against Dalits, pending cases of 1984 riot victims and civil rights."
Prabhloch has now been invited as a guest speaker to the Youth for Human Rights International World Tour-South Asia summit to be held on March 22 and 23.
What started off as a few college students' hot-blooded response to a threat, has flourished into an organization that has been challenging societal ills, while showing immense courage under pressure!