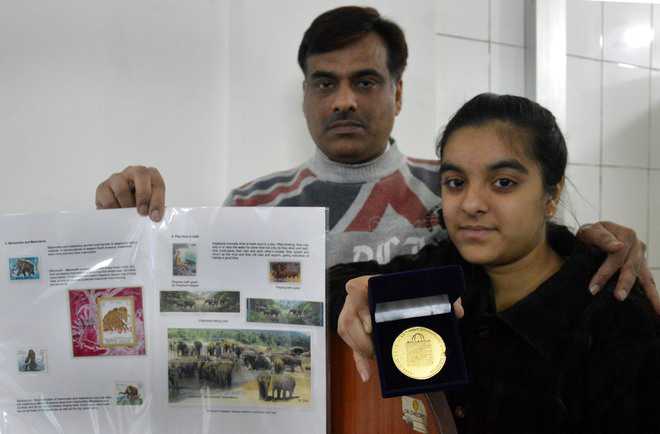 Gurvinder Singh
Tribune News Service
Ludhiana, January 2
Thirteen-year-old Muskan Malhotra, a student of Class VIII at BCM School, Chandigarh Road, has bagged a bronze medal in junior category in a philately exhibition organised by the Department of Post, Hong Kong, and Federation of Inter-Asian Philately.
Muskan made it to the exhibition from the total 13 entries sent from India. These entries were sent after the approval of the Philatelic Congress of India.
Daughter of Mukesh Malhotra, an avid philatelist himself, she missed the silver medal just by one point and scored 64 points in the exhibition, which saw the participation of philatelists from different countries of Asia in addition to those from Australia.
Muskan said she exhibited her collection made on the theme of elephants, adding that she had a large number of postage stamps, first day covers, miniature sheets related to the theme from many countries.
She said she was able to win bronze at the Asian-level exhibition because of her presentation. She had depicted over 200 postage stamps, along with some rare stamps and cancellations, 'artist-proofs' as well as coloured proofs of some of the postage stamps.
"The collection on a theme has to present a complete story. In my collection all information related to elephants, about the kind of elephants, their eating habits, their habitat, the countries where elephants are worshipped, among other things was there along with postage stamps depicting that part of the information. So one has to choose the most appropriate stamps from the large collection on a theme one has been collecting stamps in," she said. She has been collecting stamps since very young age and her father inspired her for taking up this hobby, she said.
Mukesh Malhotra said it was ironical that philately, despite a very knowledge-enhancing hobby was losing popularity. "Schools must play an active role in encouraging this hobby, as it helps students learn and explore. It also increases their curiosity towards learning and gaining knowledge about facts, personalities and important momentous occasions in history and commemorative days," he said.
Top News
Appointments come amidst strong observations by a Supreme Co...
The regulator says committed to ensuring market integrity; m...
Firm exported two consignments of 24 batches of the allegedl...
Preneet Kaur is accused of helping the BJP in the northern s...
According to a FIFA ruling, men football players can wear tu...