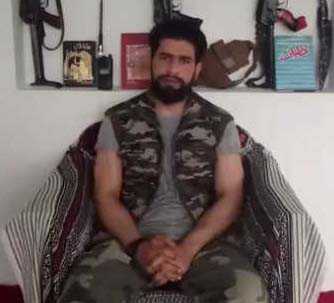 Azhar Qadri
Tribune News Service
Srinagar, August 16
A former engineering student, who opted out of the college to join militant ranks, has appeared in a latest militant video, replacing slain militant commander Burhan Wani as the new face of Kashmir's insurgency.
Zakir, alias Musa, appeared in an eight-minute video in which he spoke about a series of issues, including the killing of Burhan and two other militants on July 8 evening last month that sparked an unrest across the Valley.
"We are thankful to all Kashmiris, (those) who gave their lives, and supported the Islamic movement," Zakir, sitting on a chair and dressed in military camouflage, said. Three Kalashnikov assault rifles, several books, a wireless set and a dagger were placed on a shelf behind him in the video that has been shot at an unidentified location in recent weeks.
Zakir said the killing of Burhan and his two associates had taken the "Islamic movement" to a new level, and should now be given "full support and taken to conclusion."
The commander said the ongoing unrest should continue. "You should continue protests and shutdowns. No matter who calls off the shutdown, you should not allow it because we only follow Allah and no one else," he said.
Top Stories