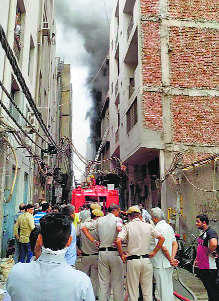 shalender@tribune.com
Tribune News Service
New Delhi, July 13
Three persons, including two women, died and 12 were rescued in a major fire that broke out today at a rubber factory in Delhi's Jhilmil industrial area.
Chief Minister Arvind Kejriwal has announced a compensation of Rs 5 lakh to the families of the victims.
The victims, who used to work as labourers in the factory, died of suffocation, said Atul Garg, chief fire officer. As many as 31 fire tenders were pressed into service to bring the blaze under control. The fire broke out around 9 am and it took fire officials more than three hours to bring the blaze under control.
The bodies of the victims were recovered from inside the factory and sent to the nearby GTB Hospital, where they were declared dead by doctors. Deputy Commissioner of Police (Shahdara) Meghna Yadav said the deceased had been identified as Shoeb, Manju and Sangeeta.
Twelve workers were working when the fire broke out and were rescued by the Delhi Police with the help of fire officials from inside the factory, the DCP said.
Fire officials came to know about the flame around 9:25 am. Initially, 10 fire tenders were rushed to the spot.
Many inflammable goods, including plastic, rubber items, brass metals, cardboard, mainly household tools and equipment, were stocked in the factory, a fire department official said.
The police lodged a FIR against the owner as no fire extinguishers were installed inside the factory and many inflammable goods were stocked there, jeopardising the lives of labourers, the police said.
The cause of the fire is not yet known and an investigation is being carried out in this regard. Despite being an industrial area, there are several residential buildings located near the factory.
In a similar incident in January last year, 17 persons, including 10 women, had died in a massive blaze at a firecracker storage unit in the outer Delhi's Bawana industrial area. Yesterday, a fire had broken out in an operation theatre of the government-run Employees State Insurance Model Hospital at Basai Darapur.
Previous incidents
In January last year, 17 persons, including 10 women, had died in a fire at a firecracker storage unit in the outer Delhi's Bawana industrial area
On Friday, a fire broke out in an operating theatre of the government-run Employees State Insurance Model Hospital at Basai Darapur