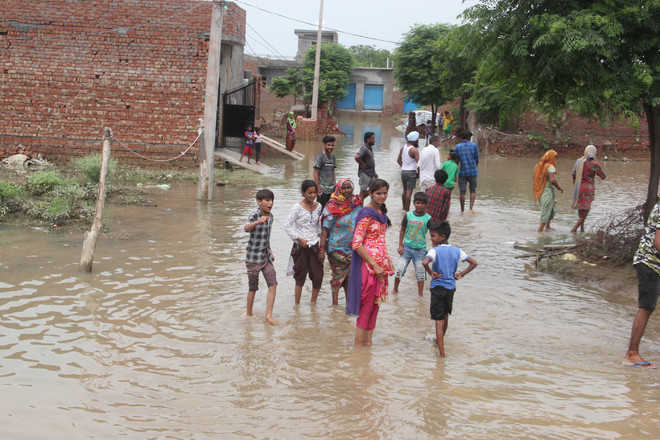 editorial@tribune.com
Amit Bathla
Tribune News Service
Bathinda, July 18
A flood-like situation has emerged in Vishwas Colony, located alongside the Behman Road, due to a leakage in a rising main. A total of 300 families living in the area have taken their household items out of their houses as there has been fear of wall collapse.
Accusing the authorities of negligence, local residents on Thursday staged a protest. Even cracks have appeared in various houses, putting lives at risk. The colony is still submerged in two-feet. Vishvas Public School has also been closes for 3-4 days due to a flood-like situation in the colony, residents said.
When contacted, VB Shivangi, DGM, Triveni company, said, "Nearby farmers have been using water from the pipeline that goes towards the ash pond for the irrigation purposes. Due to heavy rain, they recently blocked the joint as there was enough water in their fields. This mounted pressure on the pipeline, leading to a leakage. Now, the leakage point has been patched up using cement and concrete."
A resident said the Triveni company is doing nothing to resolve the problem.
Babu Rani, a colony resident, said, "We approached everyone, but being a poor man, we can't do anything. No one is ready to address our grievances." Satpal, another resident, said, "There are high chances that diseases may spread as everyone is wading through deep waters. A non-cemented wall got collapsed on Wednesday. Even a cow lost life after being drowned. Now, its carcass is lying unattended."