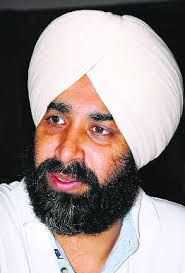 editorial@tribune.com
Sukhmeet Bhasin
Tribune News Service
Bathinda, February 9
State Finance Minister Manpreet Badal will be on a ground-breaking ceremony spree in the city on Sunday.
As per the schedule released by the office of the minister, he will perform ground-breaking ceremony of nine projects and inaugurate water tanks at Kheta Singh Basti.
Manpreet Badal is scheduled to do ground-breaking ceremony of the projects which include sewerage works on main road in Kheta Singh Basti, construction of streets in Adarsh Nagar, sewerage system in Ward Number 2, biodiversity park near Joganand Road along Sirhind Canal, Kanhaiya Nagar School building, water works at Poojawala Mohalla, Hazi Rattan school building, Sanjay Nagar school building and Paras Ram Nagar school building.
The Biodiversity Park project is one of the major projects and work on it will begin on Sunday. It is a pet project of Manpreet Singh Badal.
Biodiversity Park is set to come up along Sirhind Canal at Joganand at a cost of Rs 80 lakh on the Forest Department land.
In the first phase, rain shelter, gazebo, footpath and parking would come up. This work would be taken up by the Public Works Department (PWD).
The work of plantation, landscaping, nature trail, birds and mammal species would be taken up by the Forest Department.
In the second phase, the department will focus on offering value-based facilities and attractions to visitors.
The department would set up swings for children and would make walking trails inside the park, making it easy for visitors to negotiate their way through the forest and explore various facets of it.
It is learnt that different zones would be built inside the park. A butterfly zone would come up in which only those plants would be planted on which butterflies fly around and perch. An open gym would also be set up.
As per the plan, an orchid zone will also come up in which creepers would be planted. Proposed to spread over an area of 3 km, the park would house many new species of birds and mammals.
The department will also have decorative and exotic plants inside the park, besides several indigenous varieties of plants, which are not commonly found in the Malwa region.
Top Stories