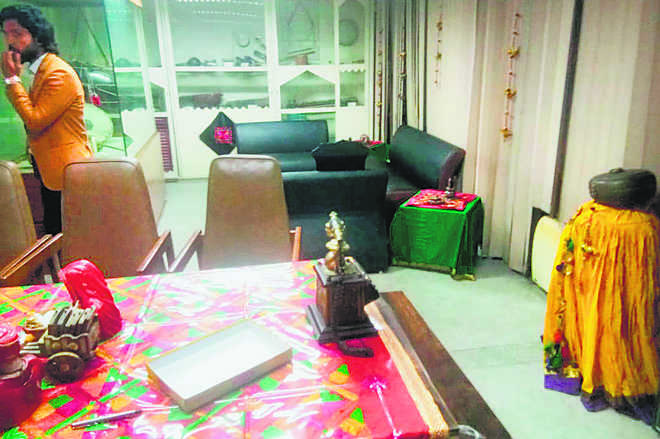 laxmi@tribune.com
Sarika Sharma
Tribune News Service
Chandigarh, February 13
MS Randhawa's dream of a museum for performing arts has been literally dumped. The hall that housed the memorabilia of several prominent Punjabi artistes of yore has been turned into her office by singer Sukhminder Kaur Brar alias Sukhi Brar, who was recently made programme director of the Punjab Arts Council.
According to sources, Brar came to the Council at Punjab Kala Bhawan here last Saturday, opened the door of Sangeetshala, Punjab's only museum for folk instruments, and turned it into her office. She also purchased furniture worth Rs 70,000 "without prior approval" and has asked the parishad to reimburse the amount.
Randhawa, an avid promoter of culture, was keen on a museum for performing arts and is believed to have begun collecting memorabilia around 1979. The collection included Surinder Kaur's ghungroos, Yamla Jatt's tumbi, Amar Singh Shaunki's dadh and sarangi, algozas of Beli Ram, Didar Singh Ratainda's sarangi and Gurdas Maan's first dafli.
It is said that Randhawa had personally met the artistes and asked them to donate musical instruments. The portraits of major artistes adorned the walls of the Sangeetshala. It is said that Prof Rajpal Singh, former general secretary of the Council, had given Sangeetshala its present form.
According to sources, the memorabilia have now been put aside and Brar's nameplate hangs outside the hall.
Thespian Kewal Dhaliwal, head of Punjab Sangeet Natak Akademi and member of the Council's executive body, called the move a disservice to the great musicians. "Sangeetshala is a sacred place that houses rare instruments of great musicians from Punjab, rare recordings and rare manuscripts of Punjab Sangeet Natak Akademi. Such a treasure cannot be turned into an office." He said during Satinder Satti's tenure, too, there was a move to turn the Sangeetshala into a library. However, it was taken back following strong protests.
Poet Surjit Patar, chairman of the Punjab Arts Council, said the matter has come to his notice and will be taken up in the general body meeting of the Council. Vijay Yamla, grandson of Yamla Jatt, said it was "unfortunate and terrible that the legacy of folk musicians is treated like this. How can an office be more important than a museum whose purpose is to guide the generations to come?"
Minister rubbishes Sukhi Brar's claim
Punjab Arts Council programme director Sukhi Brar claimed the orders were given by the minister (Council falls under Minister for Culture and Tourism Navjot Singh Sidhu) and that his PA accompanied her. She said the hall was lying locked and unused and she did not see anything wrong in putting it to use
Sidhu, however, rubbished her claim, saying he had not given permission to anybody to turn the museum into an office. "It is absolutely rubbish that my PA accompanied her," he added