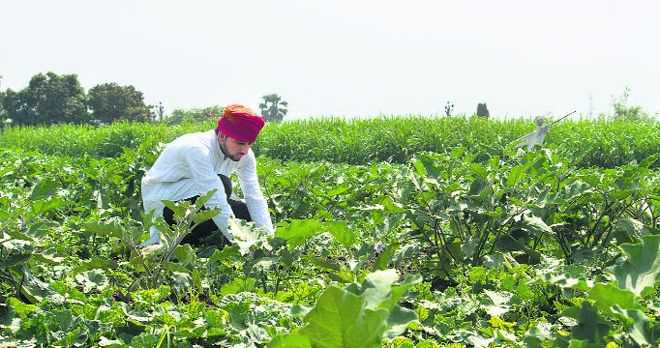 vermaajay1968@gmail.com
The phrase 'climate-smart agriculture' (CSA) consists of two interlinked concepts. One, it refers to farming practices that are resilient to climate and weather change. Second, farming is done in such a way so as not to cause further climate change or damage. Consequently, CSA lowers input costs and increases the net income of farmers because of reduced use of crop supplements to keep up with climate change.
The woes of farmers when confronted with climate change are well known. In the past several years, we have seen innumerable stories of changes in the pattern of rainfall causing havoc. Or, it does not rain when farmers need it. Farmers go to extreme lengths to save their crops from drought. On the other hand, untimely rain when the crop is ripe is hazardous.
Extreme temperature fluctuations are a nightmare for farmers. They don't realise that they themselves cause weather changes. The first example is the burning of paddy stubble. Second, livestock is a major source of greenhouse gases in India, such as methane. It is difficult to deal with this because farmers are advised to keep more cattle as they shift to organic farming.
Availability of quality fodder at a reasonable cost is the major constraint faced by the dairy farmers in India. Crop stubble-burning causes a huge loss of animal fodder and deteriorates soil health. It also increases greenhouse gas emissions, which lead to global temperature rise and climate change. The bovine livestock in the country is one of the largest sources of methane emissions.
The anticipated rise in temperature between 2.3°C and 4.8°C due to climate change across the country, together with increased precipitation change, is likely to aggravate heat stress in dairy animals. This will adversely affect their productive and reproductive performance.
An analysis of the climate variables and buffalo production shows that climate change poses a high level of threat to buffalo farming. The risk is higher in countries like India, where buffaloes are a primary dairy animal.
Due to climate change, the yield of major cereals like wheat, rice and maize are being predicted to decline from 10% to 40% by 2050. Risks of crop failure will be high in vulnerable areas. With each 1°C rise in temperature, the demand for irrigation is expected to rise by at least 10%.
Key determinant
Climate-smart farming can be achieved through a key determinant. This is the ability to accurately predict weather and understand the effects of farm practices on weather. Providing accurate six-monthly weather predictions is essential to help farmers in implementing weather-resilient crop patterns.
For too long, farmers have viewed the increase of yields as the only way out of their economic woes. There is lack of fresh thinking for increasing revenue. Farmers pump more nitrogen into the soil to increase yield, unmindful of the environmental consequences. What they do not realise is that their net revenue also depends on their input costs.
The farming community in India is dogged by small landholdings, overexploitation of natural resources, falling groundwater level, crop stubble-burning, deteriorating soil health and stagnant yields. Mechanisation has offered some solutions, but individually owned machines remain underutilised due to small holdings and the short working window for each crop. Farmers must move away from uneconomic ownership of assets.
A major source of the input costs of farmers is their investment in underutilised farm equipment and tractors. Going from the ownership model to a rental, need-based model will lessen their dependence on somehow increasing yields.
Pay-for-use model
Farm equipment centres and the 'pay for use' model for agricultural machinery is an effective way to deal with the problem. Development of an equipment rental bank allows for easy equipment rental among farmers. It achieves the primary motive of making farm inputs more accessible and affordable. The even distribution model makes communities more resilient to price changes by lowering input costs. Shared resources de-carbonise the agricultural system and make it more sustainable.
Paddy stubble-burning burns the soil in the field. Heavy irrigation is required to sufficiently rejuvenate the soil for the next crop. Once crop residue is burnt, four to five agricultural operations are required to make land suitable for the next crop, or to make a clean seed belt. This means indiscriminate pumping of groundwater, higher use of fossil fuels, irrational use of farm machinery, and higher usage of farm labour. Indiscriminate use of fertilisers and irrational use of farm machinery lead to a hike in input costs of farmers, and squeezes farm profit.
According to the Haryana Statistical Abstract, nitrogen consumption for agricultural purposes in the state has gone up 80 times in 50 years. Admittedly, land under cultivation has increased due to higher irrigation, but the major factor remains extensive use of urea. Excessive use of urea as a nitrogen source is diminishing the yield of the crops by making the leaves more translucent, which attracts insects and pests, and in turn, farmers are forced to use higher amount of insecticides and chemicals, which have side effects like the presence of residue levels in the edible parts, disturbed soil chemistry that leads to micronutrient imbalance and deficiency etc. This impacts the farmers'economic condition and also increases crop toxicity.
VUCA theory
What is the strategy for farmers to deal with climate change? The agricultural response must be a combination of offensive and defensive strategies. The defensive strategy is that farmers should be aware of how to stay ahead of the climate risk curve and to preserve natural resources — air, soil and water. The offensive strategy is the use of renewable power and technologically advanced farming machines. The weather will continue to be variable. Farmers must learn how to turn their fixed costs into variable costs.
It is time to apply the VUCA theory in agriculture. VUCA is short for volatility, uncertainty, complexity, and ambiguity. Farmers must think ahead, and prepare for a situation where land is the major asset owned. In terms of machinery, there is minimal asset ownership. Farm machinery is taken on rent through pay-for-use centres. These equipment centres function like libraries, where the farmer rents the equipment he wants for a limited period that he needs it. There is no need for the farmer to lock capital in asset ownership.
What the farmer can do
Fixed costs in agriculture are land, labour, seed, fertilisers, chemicals, farming machines, fuel etc. Land is the accepted fixed asset. The rest is utilised strictly in terms of need. With higher awareness and technology, farmers can ensure that the field has 100% seed germination. Economic use of fertilisers can be made with the help of the 'green seeker' technology, or the inexpensive 'leaf colour chart'.
Fuel consumption can remain low on a farm with two factors. One, no crop stubble-burning. Two, no ownership of redundant farm equipment. The use of fertilisers, chemicals, water and seed can be optimised through precision agriculture.
Government's role
State governments must undertake programmes for training and skill development of farmers who can open farm equipment centres with the pay-for-use model. More service providers and custom-hiring centres will mean that more agricultural equipment is available to farmers on a rental basis.
With this farmer-centric approach, the government's subsidy bill will drop significantly. Additionally, each rupee given to subsidise farm equipment will be put to good use. The government must also play a responsible role in recycling water. The world over, even countries with excess water are recycling it for agricultural use.
These steps to control climate change, taken by the government and the farmers alike, will help us all in staying ahead of the climate risk curve. For six decades, Indian farmers have been worshipping the false god of physical yield. They now need to worship the god of economic yield.
---
Climate-smart agriculture
Climate-smart agriculture (CSA) is an approach for transforming and reorienting agricultural development under the new realities of climate change. The Food and Agricultural Organisation (FAO) of the UN defines CSA as "agriculture that sustainably increases productivity, enhances resilience, reduces/removes greenhouse gases where possible, and enhances achievement of national food security and development goals." In this definition, the principal goal of CSA is identified as food security and development. Productivity, adaptation and mitigation are identified as three interlinked pillars necessary for achieving this goal.
---
The author, a fourth-generation farmer and an agri-entrepreneur, works with NABARD on climate change adaptation, mitigation measures and crop residue management for farmers
All readers are invited to post comments responsibly. Any messages with foul language or inciting hatred will be deleted. Comments with all capital letters will also be deleted. Readers are encouraged to flag the comments they feel are inappropriate. The views expressed in the Comments section are of the individuals writing the post. The Tribune does not endorse or support the views in these posts in any manner.
Cities