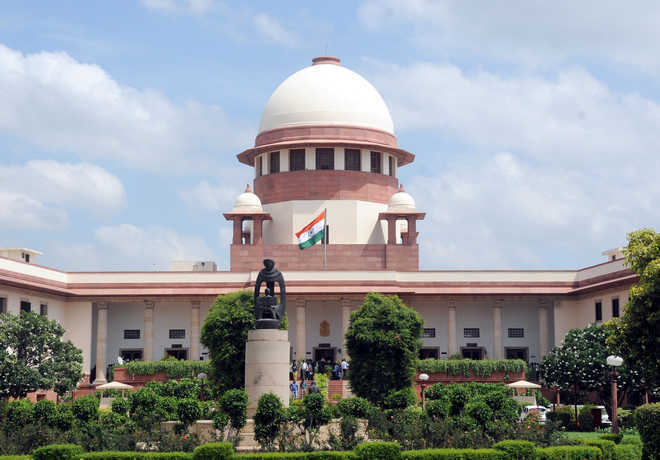 Satya Prakash
Tribune News Service
New Delhi, November 15
The Supreme Court has set aside a Punjab and Haryana High Court order sentencing a Narnaul-based lawyer to one-month imprisonment for a Facebook post against a judge of the high court, holding that it was not a case of contempt.
"We have gone through the matter in detail and are of the view that it was not a case where the contempt action should have been taken against the appellant who is an Advocate. We thus allow this appeal and set aside the impugned order passed by the High Court," a Bench headed by Justice AK Sikri said allowing advocate Manish Vashishth's appeal.
Vashishth had challenged the high court's June 3 order sentencing him to a month's simple imprisonment for his Facebook post against a judge in connection with a judicial order passed by him on August 24 last year in a personal litigation involving the lawyer.
In his Facebook post, Vashishth had alleged that the judgment passed against him by the High Court was "not speaking" and a better decision could have been written by a magistrate. He had said the judge did not upload the judgment as he might not have understood what was to be written.
The high court - which took suo motu cognizance of the Facebook post-had on May 31 held that the publication amounted to lowering the dignity of the judicial system. Such a derogatory remark was contemptuous on the face of it and as such, the HC had said holding the contemnor guilty of contempt of court.
The high court had noted that the general public's faith in the judiciary would be shattered in case punishment was not awarded to a person scandalising and lowering the authority of not just the court but also the judiciary in the eyes of the general public by his publication.
"The dignity and authority of the court has to be maintained not only by the general public, but also by advocates, who constitute an important part of the system of the administration of justice and are considered as officers of the court," an HC Bench of Justice MMS Bedi and Justuce Hari Pal Verma had said.
However, the HC had had kept the sentence suspended to enable him approach the top court for an appeal.
Allowing Vashishth's appeal, the top court said it was not a case where the contempt action should have been taken against the appellant advocate.