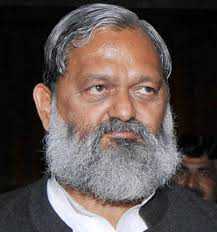 Nitin Jain
Tribune News Service
Ambala, November 13
A day before the much-awaited expansion of Manohar Lal Khattar 2.0 Cabinet takes place on Thursday, Ambala Cantonment BJP MLA and former minister Anil Vij on Wednesday said the BJP-JJP alliance would be put to test after the Cabinet is expanded tomorrow.
"The alliance will start working from tomorrow. Thereafter, it will be seen how it works," the senior most saffron legislator told The Tribune.
Confirming the receipt of invitation from the Governor for taking oath as minister in Chandigarh tomorrow, the six-time MLA said the state government's working would be restored on Thursday after remaining stalled for 18 days.
On how many and who all will be sworn in as ministers, Vij said it was the prerogative of the Chief Minister and nobody else knows about it. "He is keeping his cards close to his chest and what all he has decided will be known tomorrow only," Vij asserted.
When asked whether he would like to retain previous portfolios or was eyeing some other 'powerful' departments as minister, Vij reiterated that he had never asked for any post or department in his political career spanning over three decades. It was up to the party high command and the CM to decide and allocate portfolios. "I am an all-rounder and am ready to take up any challenge that comes my way," added the sexagenarian politician.
Meanwhile, it is learnt that ahead of the induction of the council of ministers, both BJP and JJP leaders have worked on the formulation of a common minimum programme.
Top Stories