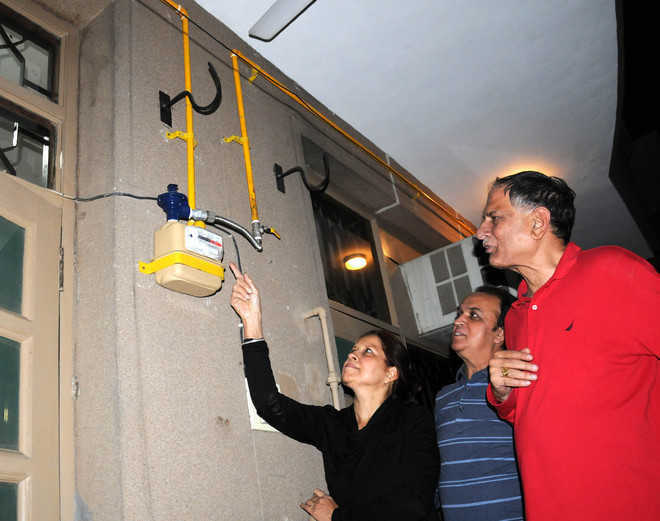 Nitish Sharma
Tribune News Service
Ambala, June 23
Residents of Ambala City and Thanesar in Kurukshetra districts are set to get the double benefit of piped natural gas (PNG) and compressed natural gas (CNG). The work to lay the PNG pipeline has already begun in the two cities, while 12 petrol pumps (six each in the two districts) have been identified that will supply CNG.
Jugesh Kumar, project in-charge of the city gas station project, said: "The PNG is more economical compared with the LPG and it will reduce the burden on gas agencies. Another benefit is it will be readily available and the bill will be raised on the basis of the usage. The customer can track the usage in a meter, which will be installed in every household. It is cheaper than the LPG and safer as well."
As for the CNG pipeline, he said a station was being built in Ambala's Jalbera village, while the work to lay the pipeline had started in Sectors 10, 9, 8 and 7 of Ambala City. The remaining parts of the city and Cantonment areas will be covered later. The plan is to cover 1 lakh households by the end of 2021.
In Thanesar, the work of laying the CNG pipeline has started in Sectors 2, 3, 4, and 8. A plant will be set up on Pipli road. A site has been identified and efforts are being made to get it on lease.
A CNG pump is ready in Shahabad (Kurukshetra district) and it is likely to start operations within a month.
Kumar said, "The cost of CNG is lesser than that of diesel. The vehicle's mileage will not be affected; rather the consumer will get the same mileage at just one-third the cost of petrol or diesel."
Benefits of PNG
The PNG is more economical compared with the LPG and it will reduce the burden on gas agencies
It will be readily available and the bill will be raised on the basis of the usage
It is cheaper than the LPG and safer as well
Advantages of CNG
The cost of CNG is lesser than that of diesel
The vehicle's mileage will not be affected; rather the consumer will get the same mileage at just one-third the cost of petrol or diesel