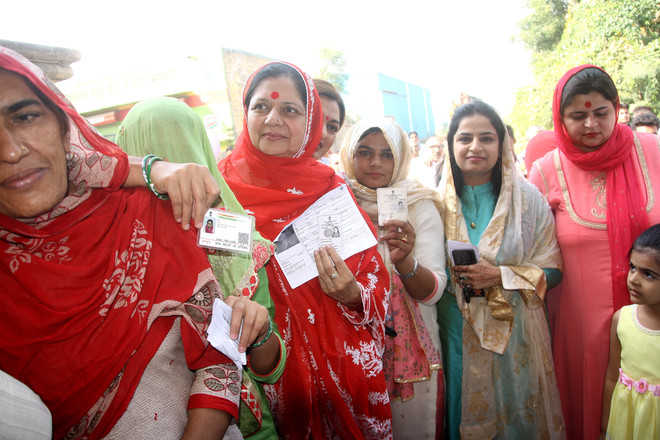 Sunit Dhawan
Tribune News Service
Rohtak, October 21
Rohtak witnessed largely smooth and peaceful polling on Monday. Barring a few clashes between workers of ruling and opposition parties, the polling process went on quietly.
The polling percentage in Rohtak district stood at 64.53 at 8.30 pm. Individually, Meham Assembly constituency recorded a polling percentage of 76.45, Garhi Sampla-Kiloi 67.10, Kalanaur (reserved) 61.10 and Rohtak 54.00.
Congress candidate from Rohtak Assembly seat Bharat Bhushan Batra's son Sidharth alleged that Virender, a worker of the party, was injured in an assault by BJP municipal councillor Pappan Gulia at polling booth 69.
Local leaders of the Congress as well as the BJP reached the scene and tried to intervene. After high-voltage political drama, Gulia was taken into custody by the police. DSP (Headquarters) Gorakhpal stated that Gulia was arrested on the basis of a complaint lodged by Virender's niece.
Former Chief Minister and Congress candidate from Garhi Sampla-Kiloi Bhupinder Singh Hooda, his wife Asha, son Deepender Singh Hooda and daughter-in-law Shweta cast their votes at Sanghi, their native village in Rohtak district.
Talking to mediapersons, Hooda asserted that the Congress would get a thumping majority and form the next government in the state.
On the other hand, Minister of State for Cooperatives Manish Grover, BJP candidate from the Rohtak seat, claimed that the BJP would retain reins of the state.
Leaders and supporters of both the BJP and Congress lodged a number of complaints against one another regarding intimidating and influencing voters with the Election Commission of India and the state election authorities.
Top Stories