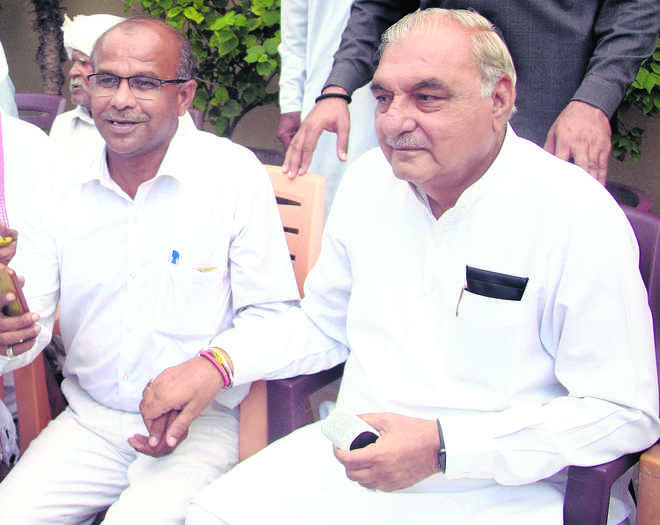 Sunit Dhawan
Tribune News Service
Rohtak, October 22
The results of a majority of the exit polls and analyses of the electoral trends by political observers indicate that the BJP is all set to bust a psychological barrier by making inroads into the Jat heartland of Haryana in the elections to the state Assembly.
Edit: Below-par turnout
If the saffron party succeeds in doing so, it will put Bhupinder Singh Hooda, two-time Haryana Chief Minister and stalwart Congress leader of the Deswali Jat belt, comprising Rohtak, Jhajjar and Sonepat districts, in a challenging situation.
Although Hooda as well as his son and three-time Rohtak MP Deepender Singh Hooda had lost the recent Lok Sabha elections for Sonepat and Rohtak seats, they continue to have a considerable influence in the Jat heartland. This area has been considered a citadel of Hooda and Congress candidates had won as many as 10 of the 14 Assembly seats falling in these three districts in the 2014 elections despite a strong Modi wave.
Nonetheless, in the prevailing circumstances, it may be tough for the Congress to repeat a similar performance in these elections, with political pundits predicting that the Congress tally may go down to five or six in these districts.
"The low polling percentage recorded in these elections indicates that there was no strong anti-incumbency wave against the BJP regime in the state. The Opposition parties have also failed to pose a formidable challenge to the saffron leadership. Hence, the ruling party seems to be in a comfortable position," observes Ram Kanwar, a political analyst.
He said while Hooda focused his energy and attention on ousting former Haryana Congress president Ashok Tanwar, the Chautala clan remained occupied in their internal feuds, adding that the lack of a viable political alternative was also a considerable factor in these elections.
Prof Rajendra Sharma, a noted political scientist, maintains that the BJP, which used to be considered a party of the urban upper castes, has tried to co-opt the other castes and communities like the Scheduled Castes (SCs), Backward Classes (BCs), Other Backward Classes (OBCs) and Jats.
"The BJP leadership has been successful to an extent in co-opting the SCs, BCs and OBCs. It has also inducted many local Jat leaders and may eventually get the backing of a considerable chunk of the community members owing to their inclination towards the ruling dispensation," he states.
Top Stories