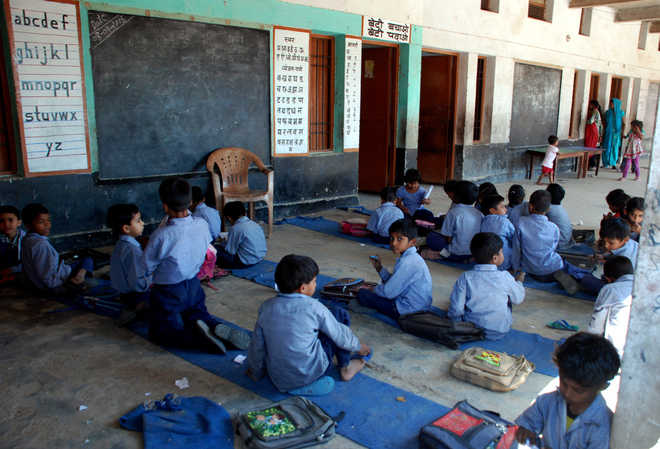 Sushil Manav
Tribune News Service
Chandigarh, December 7
Owing to bureaucratic delays, over 11 lakh schoolchildren in Haryana await funds for the purchase of uniforms which they normally get at the start of the session under the Samagra Shiksha Abhiyan (SSA).
Of these, 7.90 lakh children are girls, 3 lakh Scheduled Caste boys and 23,000 boys belonging to the below poverty line (BPL) families.
The Tribune has learnt that though the Central Government had released its share of the funds for the scheme at the start of this session, the authorities have not been able to transfer funds to the bank accounts of children, most of whom come from families of poor financial background.
The Centre and the state contribute in the ratio of 60:40 for the uniform grant of schoolchildren.
Under the Right to Education Act, 2009, all girl schoolchildren and boys belonging to the Scheduled Castes and BPL families studying in elementary classes (Class I to VIII) get two sets of uniforms, one each for the summer and the winter, every year.
Initially, when the scheme was started, the School Education Department used to transfer funds to the schools for purchasing uniforms for their schoolchildren in bulk.
However, following allegations of corruption in the procurement, this was discontinued and the government started transferring uniform grant of Rs 600 per child directly to the Aadhaar-linked bank accounts of children.
Sources said though the Centre had released its share of grants for uniforms to the state government, it took more than five months for the state government to release its share of the grant.
Sources said with three quarters of the year already gone, the funds would lapse if not transferred to the accounts of the schoolchildren within the next few weeks.
An official in the Finance Department maintained that the SSA had no dearth of funds, as it needed Rs 67 crore for the disbursal of the uniform grant, but it had Rs 165 crore in its accounts in April this year and Rs 302 crore more were provided to the SSA when its funds finished.
He further said that even the action plan of the SSA was approved by the Centre in August and, hence, there was no question of disbursing the funds in April.
Dheera Khandelwal, who was Additional Chief Secretary, School Education Department, till her transfer on Thursday, could not be contacted for her comments.
Rakesh Gupta, who recently joined as project director of the SSA, admitted that the transfer of funds had been delayed.
"Details of schoolchildren from districts were awaited in the Department of Elementary Education. We are trying to expedite the transfer of funds to the beneficiaries," Gupta added.