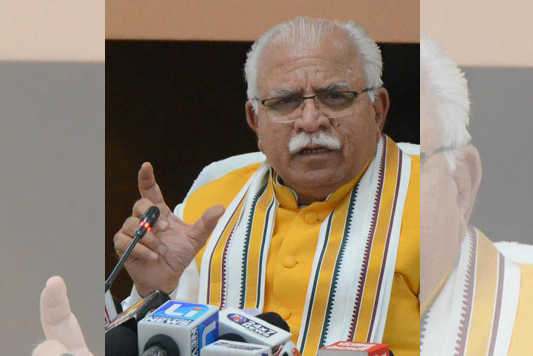 adeep Sharma
Tribune News Service
Chandigarh, November 11
With the BJP high command reportedly clearing names for berths in the Council of Ministers, Manohar Lal Khattar Cabinet is likely to be expanded on November 13.
The state BJP top brass, including Khattar, state chief Subhash Barala and general secretary (organisation) Suresh Bhatt met Union Home Minister and BJP president Amit Shah on Sunday and reportedly finalised the names for the Cabinet.
Various permutations and combinations to balance caste, regional and gender factors were discussed at the meeting in a bid to give wider representation to all sections and maximum regions of the state.
The Cabinet can have a maximum of 13 ministers, including the Chief Minister and Deputy Chief Minister. While three ministerial berths are set to go to the JJP, the BJP will have nine members in the Cabinet. One berth is set to go to one of the seven Independents supporting the BJP-JJP government.
According to sources, besides Khattar, six-time MLA Anil Vij (Ambala Cantonment) and Subhash Sudha (Thanesar) are contenders for ministerial berths from the Punjabi community. Former Speaker Kanwar Pal Gujjar, Abhe Singh Yadav and Harvinder Kalyan are claimants from the OBC category.
Kamal Gupta (Hisar), Deepak Mangla (Palwal) and Ghanshyam Saraf (Bhiwani) are frontrunners from the Aggarwal community. The names of Banwari Lal (Bawal) and Bishamber Valmiki (Bawani Khera) are doing the rounds from the Dalit community.
With Jat heavyweights Barala, Capt Abhimanyu and OP Dhankar losing the elections, two-time MLA Mahipal Dhanda (Panipat Rural) is the frontrunner from this community. The names of JP Dalal (Loharu) and Kamlesh Dhanda (Kalayat) are also in the reckoning from the Jat community.
As Ram Bilas Sharma, a prominent Brahmin face of the BJP, has lost the election, Mool Chand Sharma (Ballabhgarh) can make it. Two-time legislator Seema Trikha (Badkhal) is the frontrunner among women.
Ram Kumar Gautam (Narnaud) from the Brahmin community and Ishwar Singh (Guhla Cheeka) and Anoop Dhanak (Uklana) from the Dalit community are contenders from the JJP. Among Independent MLAs, Ranjeet Singh (Rania) or Balraj Kundu (Meham) can join the Cabinet.