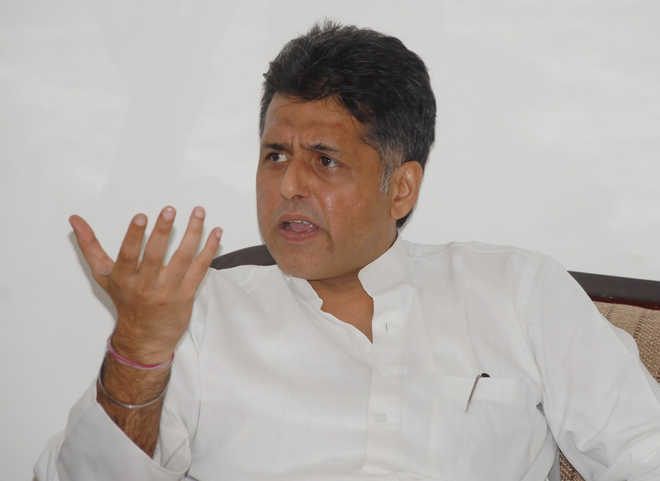 Sushil Manav
Tribune News Service
Chandigarh, August 6
Former Union Minister and senior Congress leader Manish Tewari on Sunday accused Chandigarh Police of giving in to political pressure and diluting the criminal case against Haryana BJP president Subhash Barala's son Vikas, who was arrested for stalking and attempting to "kidnap" a girl on Friday night.
Addressing media persons here, Tewari alleged that the police facilitated Vikas Barala's bail and did not apply non-bailable Sections 365 and 511 of the IPC in the FIR, though the victim had clearly stated that attempt was made to kidnap her.
"What message does Chandigarh Police want to give to young girls of the city who have to go out for work that if the man making predatory overtures to them happens to be related to a senior BJP leader, it is okay?" he asked.
Describing the police action as highly reprehensible, Tewari said the police, perhaps, want to tell people that it had different sets of laws to apply on common people and those connected politically.
He said that while the initial response of the police to act swiftly on receiving a distress call from the victim needs to be complimented, it did not show the same vigour once it was known that the accused was Barala's son.
Hitting out at Haryana Chief Minister Manohar Lal Khattar for trying to defend Barala by saying that he could not be punished for the mistake of his son, Tewari said the BJP leaders used to speak in a different tone at the time of Jessica Lal case.
The Congress leader said that what happened to the victim was appalling and the fact that it happened in Chandigarh, considered one of the safest cities of the country, made it all the more grave.
Castigating Chandigarh MP Kirron Kher for not speaking out on the issue, Tewari said she, as well as her husband Anupam Kher are in the habit of commenting on the slightest of things, but did not care to say a word on it.
The Congress leader expressed hope that the Punjab and Haryana High Court would take suo motu cognisance of the matter since the incident occurred in sectors where all VVIPs, including judges and senior bureaucrats, reside.
Calling upon the civil society to stand together to take this case to its logical conclusion, Tiwari said his party's state unit had already announced an agitation on this issue, and if justice continued to elude like this, the Congress would launch agitation in Chandigarh too.
Top News
AAP wins 134 of 250 wards, BJP 104; Congress reduced to just...
BJP thanks people for 'recognising' its work, making it vict...
Moosewala's parents had stated that people from music indust...
Terming the Indian economy a bright spot in the otherwise gl...
'Zelenskiy's success as a wartime leader has relied on the f...