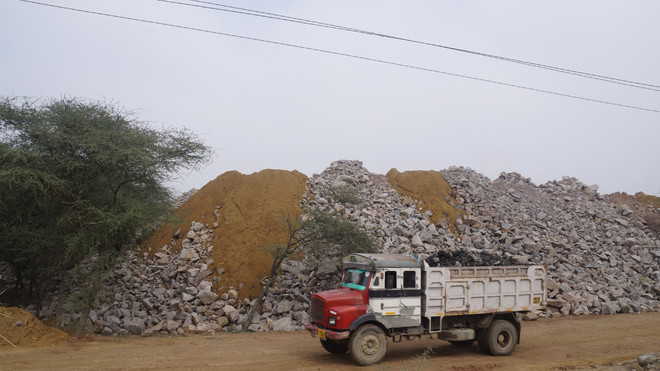 Deepender Deswal
Tribune News Service
Hisar, January 2
It seems the BJP MP from Bhiwani-Mahendragarh, Dharambir Singh, had caught a whiff of illegal mining in a Dadam stone quarry (Bhiwani district) a few months after mining commenced there.
The mining in Dadam had started on October 29, 2015 after the state government transferred the allocation of auction to Sunder Marketing Associates. The MP wrote to then Union Environment Minister, Haryana Chief Minister, National Green Tribunal and others on May 18, 2016, alleging illegal mining in Dadam.
In the strongly worded letter to then Union Environment Minister Prakash Javadekar, the MP demanded a CBI inquiry under the supervision of the judiciary.
The letter, a copy which is with The Tribune, highlighted that 55 hectares (137.5 acres) of the stone quarry was auctioned off, but mining was being undertaken in 224 acres, including 86 acres of the Aravalli range.
"The Supreme Court has banned mining in the Aravalli range, stone is being extracted from the banned area as well. Moreover, even the seasonal 'nullah' spread over 1.5 km has been dismantled and transformed into a pathway. The pipeline that watered plants atop hilltops has been dismantled. As a result, the plants have started withering," the letter stated.
The BJP MP said he had received several written complaints from village panchayats and individuals in this connection. He demanded a CBI inquiry into the illegal mining that was harming the environment and ecology. The MP also sent a copy of the letter to the NGT Chairman, reiterating his demand for a CBI inquiry.
Dharambir wrote similar letters to Chief Minister Manohar Lal Khattar, CM's Principal Secretary RK Khullar and Additional Chief Secretary (Mining) Roshan Lal with additional inputs that 1,700 to 1,900 trucks carried stone from the quarry every day, but only 800 to 900 vehicles were shown on record.
His letter to the Chief Minister and other bureaucrats stated that the weight of a loaded vehicle was around 40 tonnes, which was above the permissible limit, and this was never brought on record.
The MP alleged the state exchequer was suffering a loss of Rs7.2 crore every day on account of illegal mining.
When contacted, the MP admitted to have written letters highlighting irregularities in the Dadam mining zone. "The NGT responded to my letter. It asked for more details. But the matter was not inquired into and pursued by the authorities. Since the matter is in the High court, I hope that truth will prevail," he added.
---
lease was cancelled, but mining continued
In December 2013, the state government had allotted the Dadam stone quarry to Sunder Marketing Associates (49 per cent) and KJLS (51 per cent share) for Rs 115 crore per annum for a period of 10 years. Later, the state took a U-turn and cancelled the lease to Sunder Associates. But it carried out mining till the Punjab and Haryana High Court imposed a ban on mining in November 2017. The case is pending in court.